How can you travel to Finland without flying? This guide describes flightless routes to Finland.
I've covered over 50 destinations in this travel blog. Still, I've written very little about my own home country, Finland. This guide post about traveling to Finland without flying fills the void.
Here are six flightless ways to travel to Finland. The routes are listed in a counter-clockwise order, starting from the north. Note that my post focuses on public transportation, not routes for private cars and motorcycles.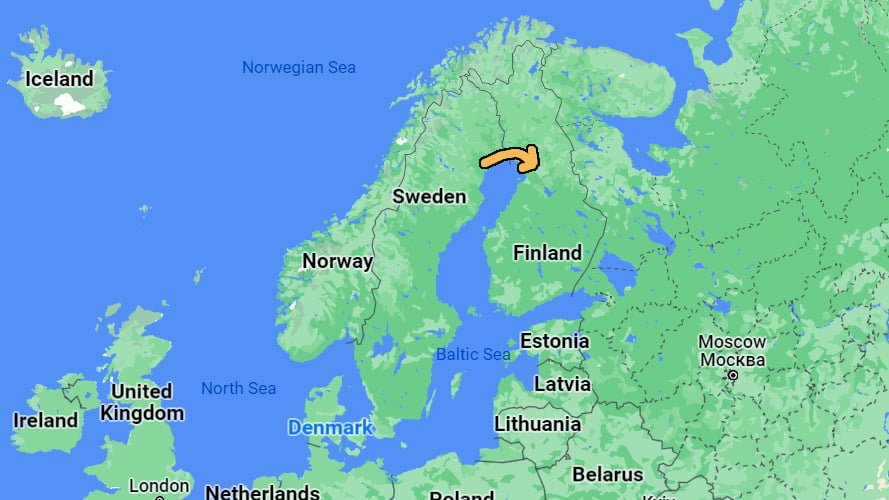 Route 1: Overland Travel to Finland from Sweden and Norway
Finland shares land borders with three countries: Sweden, Norway and Russia. I'll talk about the Russian border later in this post. First, let's begin with overland travel from Sweden and Russia.
There are multiple border crossings between Finland and Sweden or Norway. The borders are not heavily guarded, and you can walk or drive your way from one country to another without any stops.
If you're coming from Central Europe, you can travel through Sweden on public transport. In 2020, a direct night train started operating between Berlin and Stockholm. Several trains from Malmö, Sweden, on the border of Denmark also travel directly to Stockholm. From there, you can continue further up north through Stockholm on buses and trains.
The most popular land border crossing from Sweden to Finland is between Haparanda (Sweden) and Tornio (Finland). The distance between Stockholm and Haparanda is ~1000 kilometers. The journey takes around 18 hours on public transport. Further up north, there are less train connections than buses available. The coaches are very comfortable, but the tickets are a bit expensive.
For more information about overland train routes from Europe to Finland, check out this guide by the always helpful Seat61.com.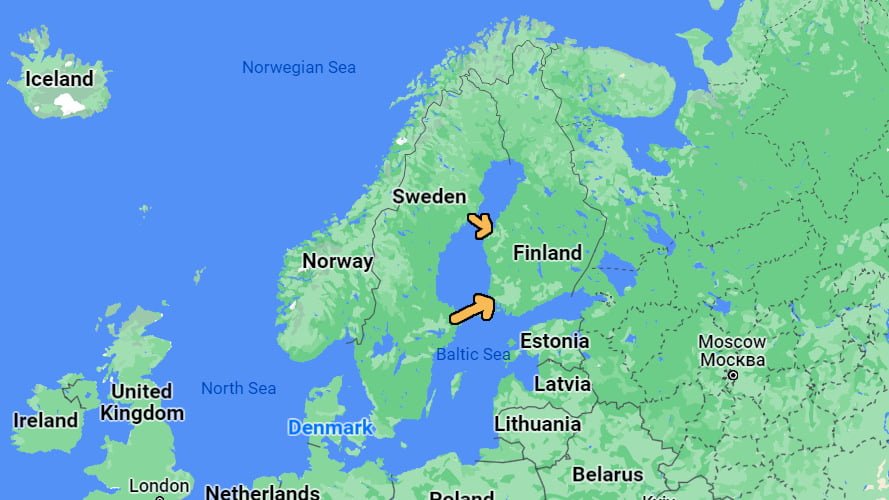 Route 2: Sea Routes between Sweden and Finland
Finland's land borders with Sweden (and Norway) offer a challenge to long-term travellers. The countries are connected by land only in the north, far away from the biggest cities of the countries. Further south, Finland and Sweden are divided by the Gulf of Bothnia.
If you wish to travel faster, you can cross the Gulf on a ferry or a cruise ship. The most popular sea lane from Sweden to Finland goes from Stockholm (the capital of Sweden) to Turku, Finland with a stop in the autonomous Åland Islands. The cruises leave daily and take 10-12 hours. Cruises from Stockholm to Helsinki are also available (16-17 hours).
The connection between Stockholm and Turku is cheap and practical, but it's not necessarily good for the environment. After all, cruises can cause more CO2 emissions than flights.
As a greener choice, you can cross the Gulf of Bothnia at its most narrow part. To do this, you must travel 640 kilometers north from Stockholm to Umeå. A ferry leaves from Umeå to Vaasa every day and the journey takes 4.5 hours.
The shorter journey (and smaller ship) makes this crossing much better for the environment. The current ferry M/S Aurora Botnia started sailing in fall 2021, and the ferry company Wasaline claims that it's the most environmental car/passenger ferry in the world.
A third option also exists: Ferries from Kapellskär to Naantali leave twice a day. Kapellskär is located 90 kilometers northeast of Stockholm, while Naantali is right next to Turku. This ferry crossing is a little bit shorter than the one from Stockholm to Turku. Unfortunately the ferry doesn't take passengers without vehicles. (A bicycle still counts as a vehicle, though.)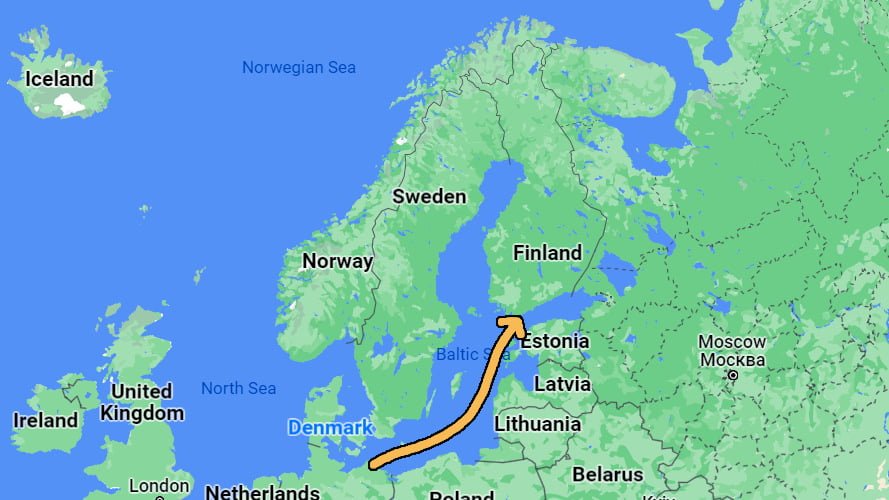 Route 3: Ferry from Germany to Helsinki
If you wish to travel from Central Europe to Finland without flying with minimal hassle, the Finnlines ferry from Germany to Finland is your choice. The ship leaves Travemünde, Germany, every night (at 2-3 am) and arrives in Helsinki 30 hours later. I used this connection when I returned to Finland at the end of my 777-day trip around the world.
While convenient, the Finnlines ferry is also quite pricey. For example, the prices per person in May start from 235 euros. And because of the long journey and the size of the ferry, this journey causes almost 370 kilograms of CO2 emissions (source in Finnish). In comparison, the CO2 emissions of a direct flight from Berlin to Helsinki are around 250 kilograms.
Route 4: Cargo Ship Travel to Finland
See also: How to prepare for traveling on a cargo ship
We'll now continue our tour of the Baltic Sea east from Germany. After Germany, the next potential points of departure are Poland, Lithuania, Latvia – and Kaliningrad, the lone exclave of Russia located between Latvia and Lithuania.
None of these countries offer regular ferries to Finland. (Poland, Lithuania and Latvia have regular connections to Sweden, though.) The lack of commercial lines doesn't stop sea travel completely, if you manage to travel as a passenger on a cargo ship.
I've written several articles about in Arimo Travels, including one about my own journey across the Pacific. Freighter travel is possible, although it demands some time, money and flexibility. Freighter voyages usually cost around 100 euros per day, food included.
Here are three potential freighter routes from Europe to Finland. Some cargo ships only allow return trips without disembarkation on the other side,
Antwerp (Belgium) to Hanko, approximately 4 days

This journey gets you from Belgium to Hanko, the southernmost city in Finland. Hanko is situated just 120 kilometers away from Helsinki. You can get to the capital in 2 hours on public transport.

Lübeck (Germany) to Oulu, 3-4 days

If you wish to visit Lapland without flying, this ferry to Oulu gives you a head start. A train from Oulu further north to Rovaniemi, the capital of Lapland, takes 2-3 hours.

Kaliningrad (Russia) to Oulu (link no longer working)

To my surprise, I managed to find a freighter connection from Kalingrad to Finland in 2021. The freighter began its journey in Hamburg and Bremerhaven in Germany. The route has since disappeared from the Slowtravel website, so I don't know about its current fate.
Route 5: Get from Estonia to Finland without Flying
The shortest Baltic Sea crossing to Finland goes from Tallinn, Estonia, to Helsinki. The distance between the two capitals is only 82 kilometers. Plans to connect the two cities with the world's longest underwater tunnel have not materialized, and it's unlikely that they will anytime soon.
To travel from Estonia to Finland without flying, you need to travel by sea. Luckily there are many ways to do it.
The easiest way is to take a ferry from Tallinn to Helsinki. There are several departures available every day and the journey takes less than three hours. If you wish to try something different, you can also try to hitchhike a ride on a boat to Helsinki. I haven't done this myself, but I know people who've done this.
Getting to Estonia from other parts of Europe takes some time, but it's not too expensive. Several cheap bus companies operate in the Baltics. The ongoing Rail Baltica project aims to improve railway connections from Poland towards Finland.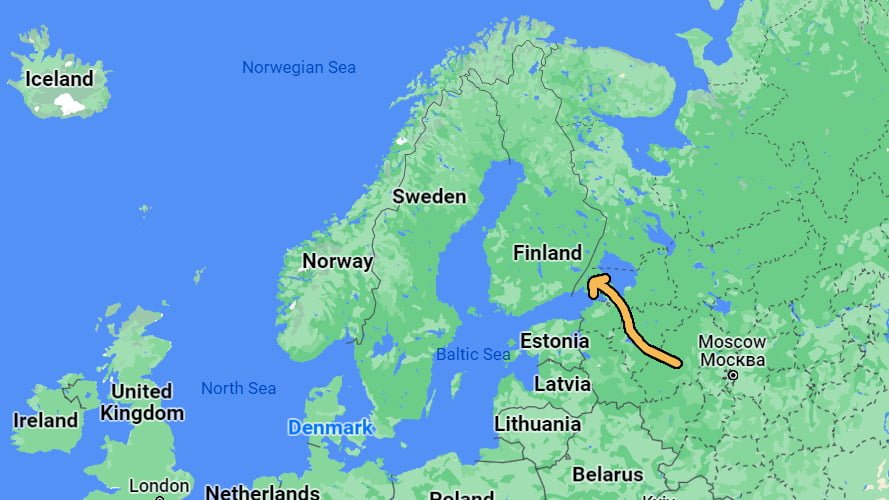 Route 6: Flightless Travel from Russia to Finland
Finland and Russia share 1300 kilometers of border. Unsurprisingly there are multiple border crossings between the two countries. Traveling from St. Petersburg or Moscow to Finland used to be easy, but this changed first with COVID and now (2022) with the war in Ukraine.
The most convenient way to travel from Russia to Finland without flying was by train. The Allegro train leaves several times each day, and a journey from St. Petersburg to Helsinki took only 3.5 hours! I made a weekend trip from Finland to Russia on Allegro in 2019, and the train journey was very easy and enjoyable.
The Allegro train used to be a great gateway to the Trans-Siberian and Trans-Mongolian Railways, offering great overland travel opportunities all the way to Southeast Asia. Though it is only a minor annoyance in the bigger picture, I am saddened by the loss of this gateway to the east.
A Lux Express bus route from St. Petersburg to Helsinki also started operating in 2019. The route is now closed, but if it ever returns to operation, there should be buses leaving multiple times each day. A bus journey from St. Petersburg to Helsinki took 7.5 hours.
The Most Sustainable Way to Visit Finland
What's the most sustainable way to get to Finland? Because of my country's distant location, it is difficult to travel to Finland without flying. As cruise ships cause a lot of pollution, a direct flight can sometimes be a greener choice.
However, not all cruise ships are the same. The Vaasa-Umeå ferry claims to be very environmentally friendly, while some ships between Turku and Stockholm use new technology such as rotor sails (Viking Grace) and natural gas (Tallink Megastar).
If you do take a plane, smaller propeller planes are more CO2 friendly than bigger (and faster) turbine planes. There are some propeller planes flying between Sweden and Finland. If you do take a plane, I recommend that you compensate your CO2 emissions with an organization such as Atmosfair.
Traveling on a cargo ship is considered CO2 neutral. After all, the freighter ship travels anyway and having an extra passenger has very little impact on the CO2 emissions. However, there are only a few freighter connections to Finland available.
Trains are one the most sustainable modes of transport. According to some estimations (source in Finnish), the most sustainable way to travel to Finland might be by train through Sweden. There are parts where you have to take a bus, but otherwise this slow route is one greenest.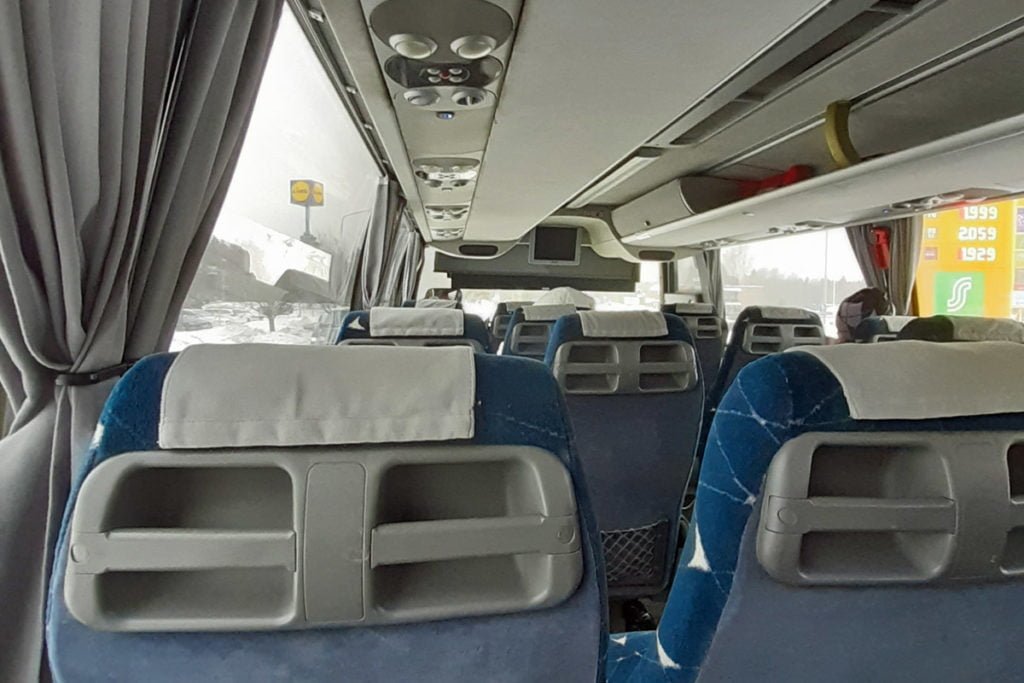 Overland Travel in Finland
How can you travel overland in Finland? Finnish roads are in good condition and cycling is also possible. In this section, I focus on public transportation and hitchhiking in Finland.
Finland has only one railway company, VR that's owned by the government. The trains are pretty fast and reliable, although the tickets can be expensive without a student discount.
For cheaper transportation, I recommend bus companies such as Onnibus.com. With many companies, the tickets are cheaper the earlier you buy them. Matkahuolto.fi sells tickets to most buses. There's also a website called Pikavuorot.fi (in Finnish only) that shows prices and schedules for both buses and trains.
As a rule of thumb, traveling from on the north-south-axis – or to any direction from Helsinki– is pretty fast. Western Finland has better connections than the East – especially in the north – and traveling between East and West can take more time than expected.
Hitchhiking is not common, but people know about it and you can catch a ride relatively easily. Hitchhiking on motorways is not allowed, and it can be challenging to find a good hitchhiking spot near the bigger cities. Hitchwiki has more information about hitchhiking in Finland.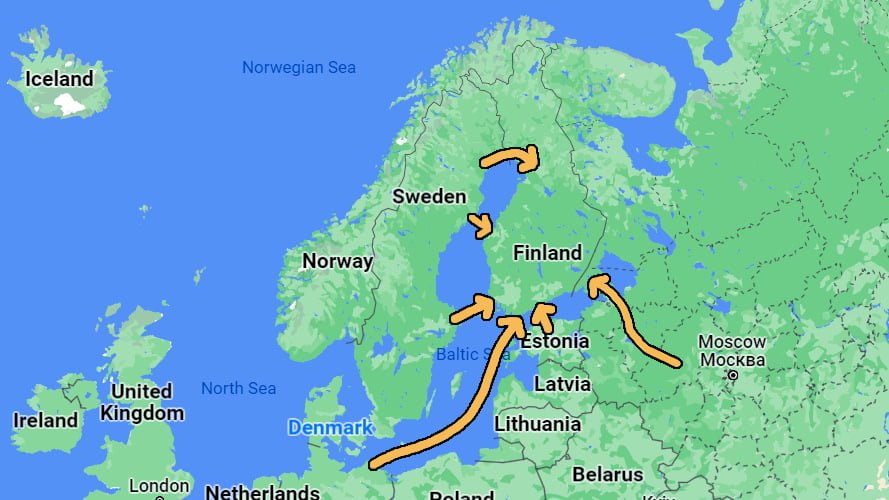 How to Get to Finland without Flying
Is it possible to travel to Finland without flying? Yes, absolutely. It just takes time. Traveling to Finland through Sweden is easy, and you can take a ferry or a cargo ship from Central Europe as well. Connections between Finland and Russia are limited for now, but the connections in the Baltics are improving all the time.
I haven't hopped on a freighter to/from Finland yet, but I've done almost all the other routes mentioned in this article.
I've started all my InterRail trips with the ferry from Sweden to Stockholm. My 2-year trip around the world began with a ferry ride to Estonia and ended with the ferry from Travemünde, Germany. I've passed all the border crossing between Sweden and Finland, and I've made multiple trips to Northern Norway. In 2013, I even traveled from Finland to North Korea by train!
This guide lists most of the flightless travel routes to Finland. I haven't delved very deep in the details. I hope this post acts as an inspiration and a starting point as you plan your adventure. If you have any questions about overland ways to travel to Finland, you can share your thoughts in the comments below.
For other flightless travel routes, check out my page Flightless Travel.