How can you travel from Europe to Africa without flying? This guide lists flightless travel routes from Europe to Africa.
For those who wish to travel the world without flying, crossing continents can be a challenge. Europe itself offers plenty of overland travel options. However, leaving Europe without flying is a bit more tricky.
Europe and Africa are very close to each other, so there are several possible ways to Africa without flying. Unfortunately many countries in Northern Africa have issues with safety. If you travel from Europe to Africa overland, check current safety information from your government as well as other sources.
Can You Drive from Europe to Africa?
Update 2022: Many of you find this page by searching "can you drive from Europe to Africa" or something similar about traveling from Europe to Africa by road. The answer is: maybe, but it's almost impossible.
This blog post focuses on travel by public transportation, but for more information about traveling to Africa by land, check Option 5: Europe to Africa Overland through Israel at the end of this guide.
Here are five ways to travel from Europe to Africa without flying, listed from west to east.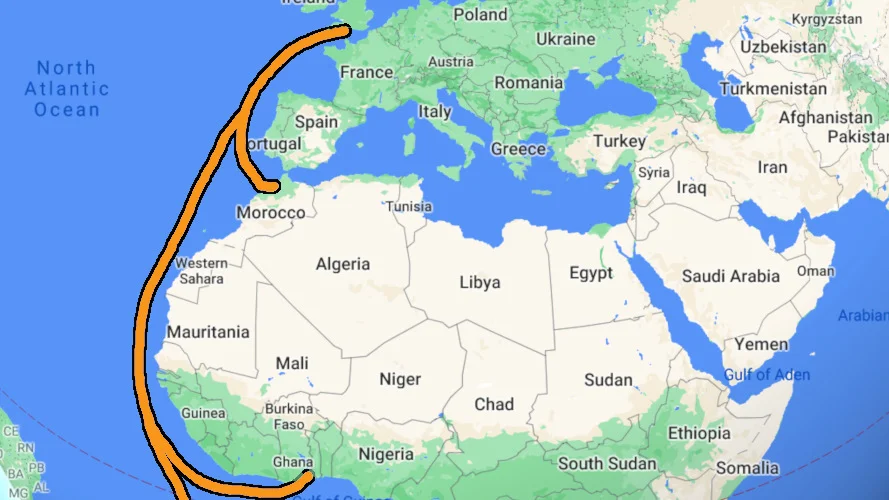 Option 1: Cargo Ship Voyages from Europe to Africa (several routes)
Note: At the time of writing (early 2021), cargo ship companies have suspended passenger transportations because of COVID. These restrictions should disappear in the future. Check current information from websites such as cargoshipvoyages.com.
I personally recommend freighter travel as an option for flying. Cargo ship travel demands some time, money and flexibility, but offers a memorable journey with little emissions.
Here are three freighter travel routes from Europe to Africa. Several other trips are also available, and some of the cargo ships make stops along the way. The ticket prices include all food and accommodation.
London (UK) to Tangier (Morocco): 1712 €, 11 nights

This flexible route makes several stops in western Europe before heading to Morocco. For example, you can hop on board in Le Havre (France) to save several days of travel.

London (UK) to Lagos (Nigeria): 910 €, 15 nights

This route from Europe to West Africa would be a great choice. First of all, it is remarkably cheap for freighter travel. It also allows you to skip traveling overland in North Africa if you wish to do so.

Antwerp (Belgium) to Cape Town (South Africa): 3097 €, 31 nights

The journey is long, but so is the distance. You can get to the southern tip of Africa without delays with this one-month expedition.
Option 2: Spain – Canary Islands or Cape Verde – Africa
Is it possible to get from mainland Europe to Canary Islands first and then Africa without flying? Maybe, although it's not simple. There are some ferry connections from Spain to Gran Canaria, but none from the Canary Islands to Africa. A ferry connection from Fuerteventura to Morocco was planned at least in December 2020.
Those who wish to travel via Canary Islands – or Cape Verde further south – could try to hitch a ride on a sailboat from the islands to Africa. Most sailboats here will be crossing the Atlantic, but I found at least one mention of someone making the journey the other way around. You can get a ferry to the Canary Islands from Cadiz and Huelva in Spain.
There are dedicated guides and websites for boat hitchhiking. If you wish to know more, you can start with HitchWiki.
Option 3: Ferry from Spain to Morocco
At its most narrow point, the Strait of Gibraltar that connects Europe and Africa is only 13 kilometers wide. It is the fastest and shortest way to travel from Europe to Africa without flying. Ferries leave from multiple cities in Spain and the ride only takes a few hours at most.
For more information about current ferry connections from Europe to Morocco, check websites such as Ferryhopper.com.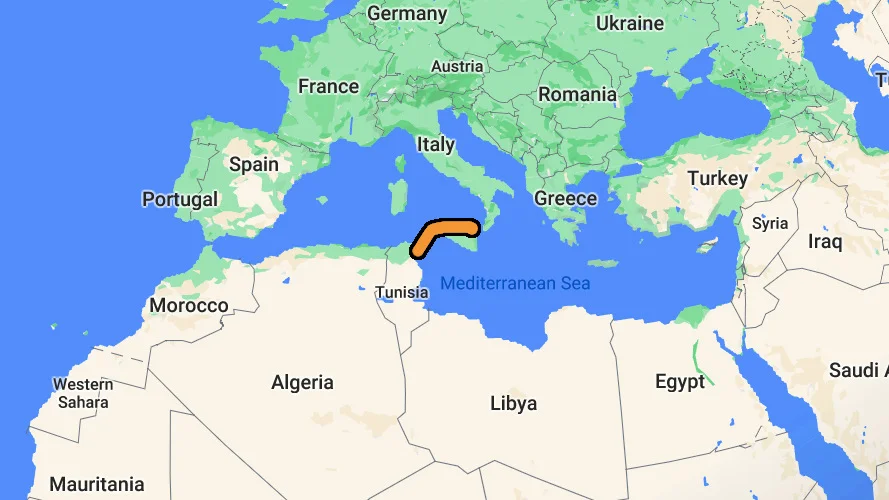 Option 4: Ferry from Italy to Tunisia
Heading east from Spain, the next narrow gap comes between Italy and Tunisia. There are some ferries going from Italy to Tunisia. For example, a ferry from Palermo to Tunis takes approximately 10-12 hours. The price is around 50-70 euros for a person on foot.
Even though Malta is close from Tunisia, I've understood that there are no direct flightless connections between the two countries.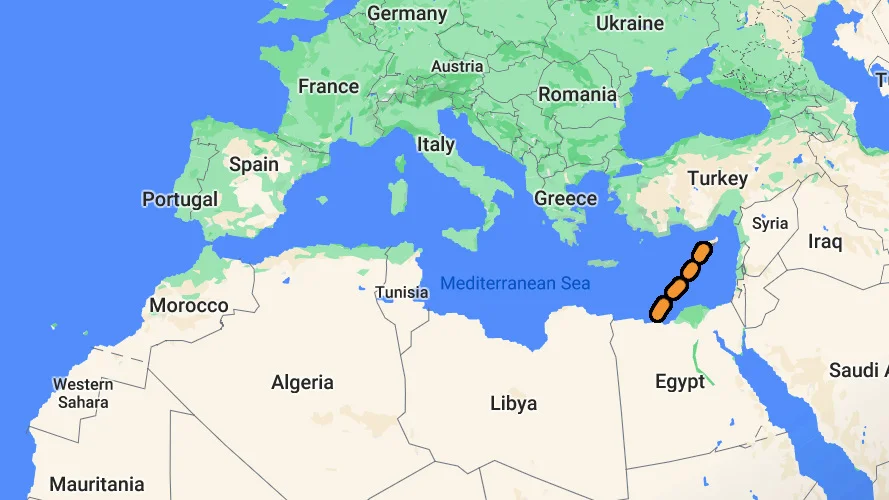 Option 4: Ferries from Cyprus to Egypt
After a decade-long hiatus, ferries from Limassol, Cyprus, to Alexandria, Egypt, returned to operation in late 2019. Sadly the route didn't operate for long before it was closed by the global COVID pandemic.
The overseas connection from Cyprus to Egypt was run by the company Salamis Cruise Lines. At the time of writing (early 2021), the connection remains cancelled. Check the company's website for the latest information.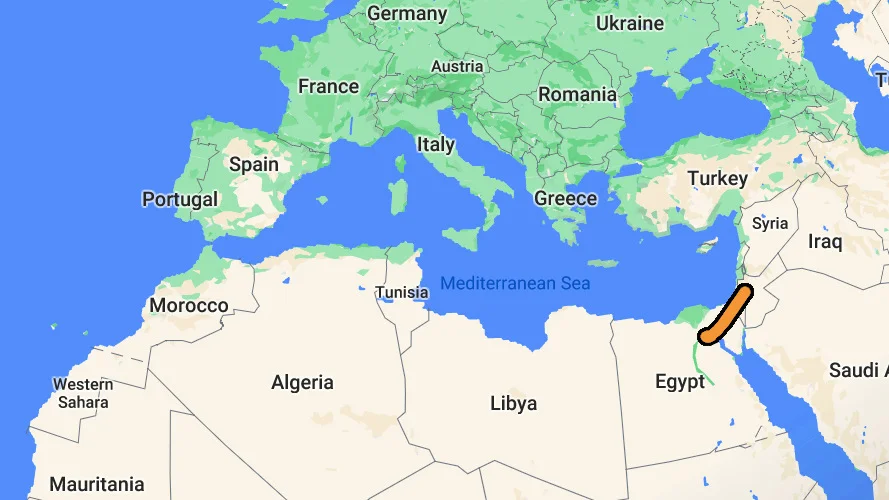 Option 5: Europe to Africa Overland through Israel
Africa is connected to Asia by a narrow land bridge in Egypt, and you can get to Egypt overland from Israel.
However, getting from Europe to Israel without flying is almost impossible. Seat61.com – probably the best website in the world for flightless train travel – has listed different options for this route. Unfortunately the list includes ferry connections that have ceased operation and a train route through Syria that's not currently possible.
If you somehow make it to Israel, the only tourist border crossing between Israel and Egypt is the Taba border crossing in northern Egypt. You can also reach Egypt with ferries from Jordan. There should be multiple connections from Agaba, Jordan, to different cities in Egypt.
Traveling from Europe to Africa without Flying
I've listed multiple overland routes from Europe to Africa above. You can use this article as a starting point before you look for more recent information about flightless travel from Europe to Africa.
This list does not include all the ways to get from Europe to Africa without flying. I excluded cargo ships that travel through Suez Canal as they don'tallow disembarking in Egypt, but you can get to Mauritius that way.
I traveled through southern Africa on public transport during my 2-year trip around the world, but I haven't traveled from Europe to Africa without flying. If you know something that's missing here, you can share your information in the comments below and I'll update this article.