Are you planning a trip to Lapland during your visit to Finland? This comprehensive guide explains how to get from Helsinki to Lapland by train.
Lapland, the northernmost region of Finland, is a highly sought-after destination in my home country. However, reaching Lapland without flying requires some time and planning. With the right preparations, you can ensure a comfortable journey.
This guide primarily focuses on how to travel from Helsinki to Lapland by train. However, it is also applicable if you're starting your journey from other locations in the south. At the end of the guide, we wil explore a few alternative travel options.
If you're interested, I have also written other guides on train travel in Finland and how to reach Finland without flying. You can find them here: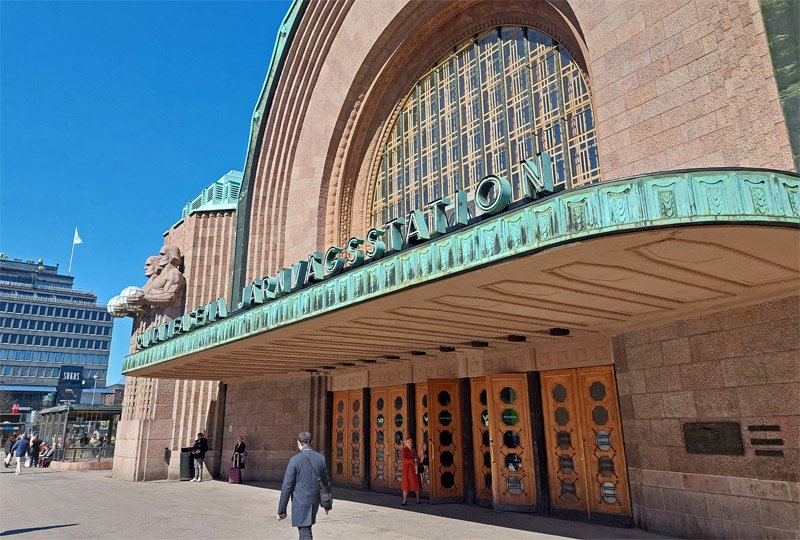 Helsinki to Lapland by Train – Essential Information
Can you get from Helsinki to Lapland by train?
Absolutely! The majority of trains heading to Lapland originate in Helsinki and terminate in Rovaniemi, the capital of the region. Some trains even continue further north to the train stations in Kolari (Western Lapland) and Kemijärvi (Eastern Lapland.
Both daytime trains and overnight sleeper trains operate between Helsinki and Lapland.
How far is Lapland from Helsinki?
The direct distance between Helsinki and Rovaniemi, the capital of Lapland, is 700 kilometers. However, to fully experience the majestic fells (mountains) and nature, you'll need to venture further north. For instance, the Urho Kekkonen National Park is located 900 kilometers north of Helsinki.
How long does the train journey to Lapland take?
The fastest trains from Helsinki to Rovaniemi complete the journey in 8-9 hours. The most efficient connections include a transfer in Oulu. Night trains have a slightly longer duration, arriving in 11-12 hours.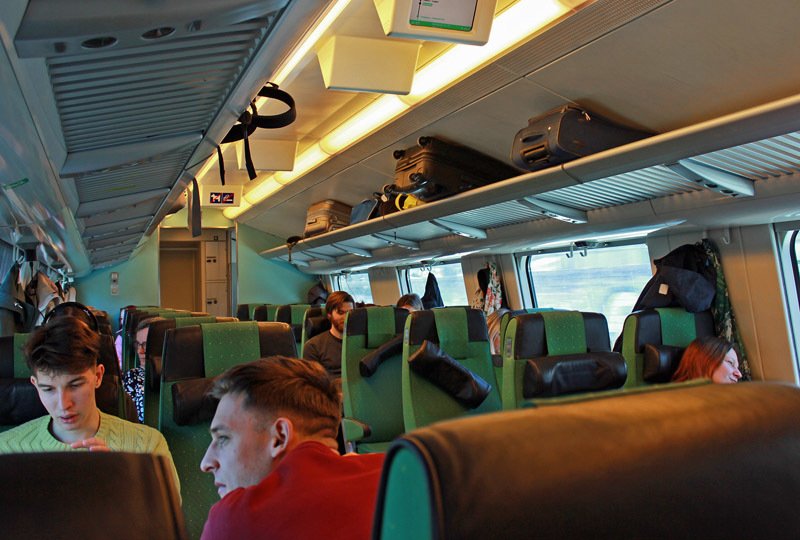 Helsinki to Lapland Train – Booking, Prices, and Schedules
How can I purchase tickets to the train?
Currently, all trains in Finland are operated by the national railway company VR. You can buy tickets through their website VR.fi, their mobile app VR Matkalla (available on Google Play or App Store), and ticket machines at the stations.
While it is possible to buy a ticket by card after boarding, it is not recommended. There may be no available seats, and an additional service fee of 7 euros will apply.
Helsinki to Lapland train cost – Is train travel to Lapland expensive?
Ticket prices are not fixed and depend on the popularity of the train. The earlier you book, the better.
For instance, a nearly fully booked day train to Rovaniemi can cost 90 euros. However, by booking well in advance, you can make the same journey for as little as 20 euros.
International student card holders are eligible for a 30% discount, while pensioners receive a 20% discount. These discounts don't apply to cabins on overnight trains.
How frequently do trains operate between Helsinki to Lapland?
There are multiple train options available from Helsinki to Lapland each day. As of summer 2023, there were four daytime trains and two overnight trains from Helsinki to Rovaniemi.
Most of the time, the farther Lapland train stations are accessible only by night trains. These trains operate twice a week during the off-season and more frequently around the Christmas period.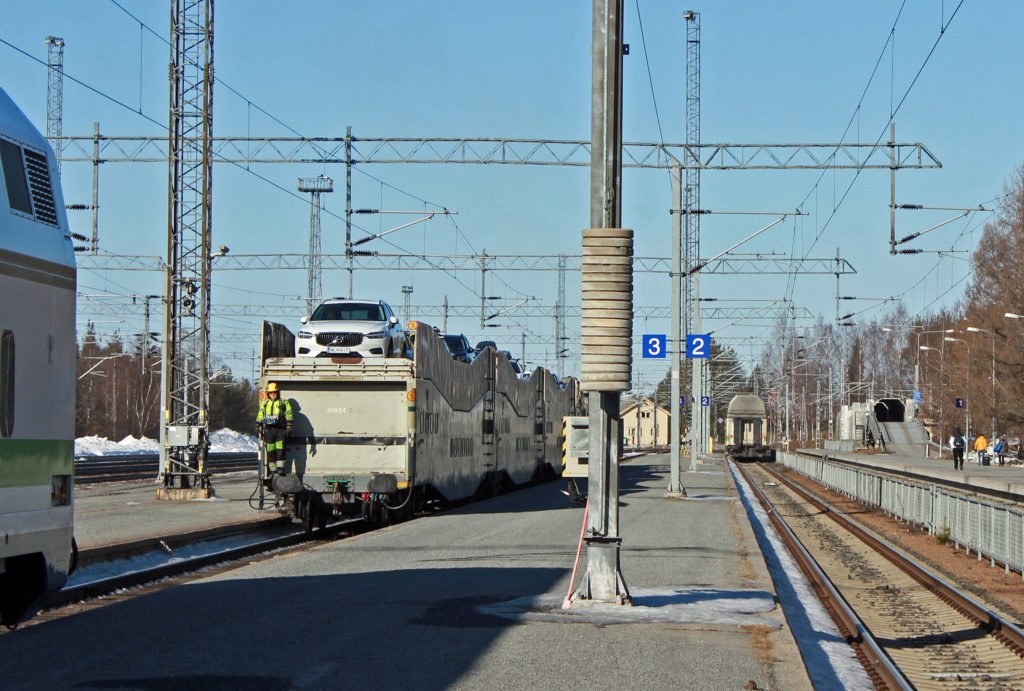 Information about the Overnight Train to Lapland
How can I travel on an overnight train to Lapland?
Overnight trains operate between Helsinki and Lapland every night. You have the option to book regular seats or reserve 2-bed cabins for yourself or your group.
In the past, it was possible to book a single bunk and share the cabin with strangers. However, due to COVID, this policy has changed, and now you must book the entire cabin. Please note that cabin reservations cannot be made through in the VR mobile app but can be done on their website.
What can you tell me about the prices and the schedules?
If the train is nearly fully booked, the journey from Helsinki to Rovaniemi in a 2-bed cabin can cost around 200 euros. However, by booking well in advance, you can secure the same journey for as little as 50 euros
At the time of writing, there were two daily night trains from Helsinki to Rovaniemi. One departs at 7.30 pm to and arrives at 7:20 am, while the other departs at 11.10 pm to and arrives at 11 am.
What services are available on board the Lapland night train?
Similar to most long-distance trains, the night trains feature a restaurant car that serves moderately priced and delicious food. Complimentary Wi-Fi is available on board, functioning most of the time.
In 2023, VR was in the process of replacing their sleeper carcarriages. Currently, half of the cabins have their own bathrooms, but the plan is to have all cabins equipped with one in the future.
The cabins and seats have power sockets, although there may be occasional interrupitons in power during the night. This is essential information to consider if you rely on constant electricity for devices such as CPAP machines.
Alternatives Ways to Reach Lapland
How can I travel from Helsinki to Lapland by bus?
It is also possible to take a bus from Helsinki to Rovaniemi. Just expect a few hours longer and a less comfortable journey. While buses can sometimes be a little cheaper, it's not always the case. You can compare all public transportation options and their prices on the website Pikavuorot.fi (in Finnish).
Flying from Helsinki to Lapland is also possible, but as this website focuses on sustainable travel, I won't cover those options here. Flights are usually faster and often cheaper than overland alternatives.
Can I hitchhike to Lapland?
Yes, you can! I have personally hitchhiked once from my old hometown Jyväskylä, Central Finland, to the north of Lapland with a friend.
With few main roads and no highways in Lapland, it is somewhat easier to stop cars there. However, note that during the off-season, there may be limited traffic. In the southern regions, finding suitable hitchhiking spots near cities is more challenging (refer to Hitchwiki for more information).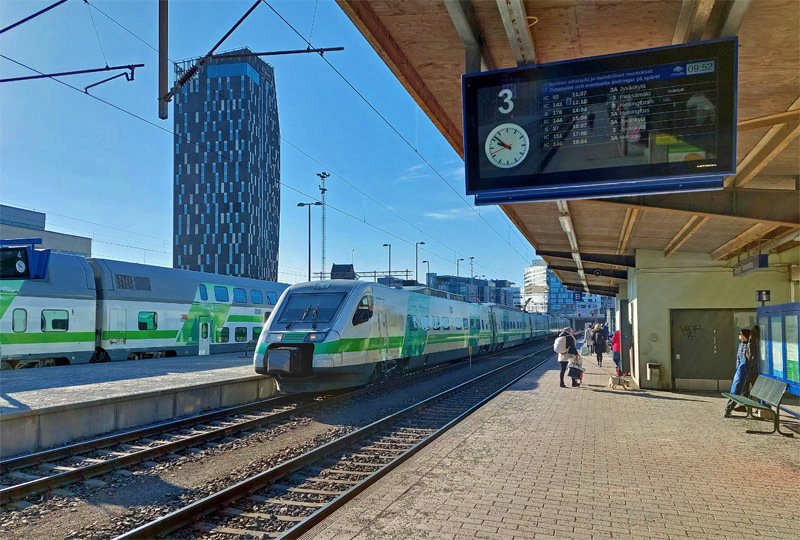 What if I start from a location other than Helsinki?
In most cases, that should pose no problem. However, there is only one main train track to the north, which runs along the west side of the country. Therefore, reaching the mainline from other starting points may take longer than anticipated.
It's worth noting that the night train schedule is designed with the capital in mind. If you board the train along the way, you may have to embark in the middle of the night. This is a bigger issue on the way back. For instance, when I took the night train from Rovaniemi to Tampere, I had to disembark at 5.35 am.
If you're starting from another location in Europe, it's not possible to reach Finland solely by rail. Instead, you will need to use buses and/or ferries along the way. For example, if you intend to travel from London to Lapland by train, you can make your way through Sweden on public transportation and reach the Sweden-Finland border in Haparanda/Tornio by bus.
How can I get to Swedish Lapland by train?
While Lapland usually refers to the Finnish Lapland, our neighboring country Sweden also has its own Lapland province in the north. Traveling to Swedish Lapland by train is relatively straightforward.
There are several trains and buses connecting Central Europe to Sweden, including an overnight train from Berlin to Stockholm. From Stockholm, you can take a train to Luleå. From there, you have the option to continue your journey to Kiruna, Abisko National Park or a few other destinations accessible by rail.
How to Get from Helsinki to Lapland by Train
In this guide, I've explained how to get from Helsinki to Lapland by train. In summary, train travel offers a fantastic opportunity to experience the natural beauty of Finland. WIth careful planning, the well-equipped long-distance trains in Finland can provide a delightful journey.
If you have any further inquiries, please feel free to ask them in the comment section below. And if you're looking for suggestions on things to do, you can check out my guide on summer activities in Finland.