Looking to travel around Finland by train? Here's all you need to know about train travel in Finland.
I previously wrote a guide on how to get to Finland without flying. This time, I'll be providing more detailed information about train travel in my home country.
Finland by Train – Basic Information for Train Travel in Finland
Can I get to Finland by train?
As of 2023, there are currently no international train connections to or from Finland. The Allegro train used to operate between Helsinki and St. Petersburg, Russia, but this connection is now closed due to Russia's invasion of Ukraine.
Additionally, there are no train connections between Finland and its other neighboring countries Estonia, Norway, and Sweden. Although there have been plans for a tunnel between Helsinki and Tallinn, Estonia, these plans have stalled.
If you're coming from Sweden, the closest train station is located in Luleå, northern Sweden. From there, you can take a connecting bus to the border cities of Haparanda and Tornio.
Does Finland have good railways?
Yes, the Finnish railways cover most of the country, and the timetables are quite reliable. In minor delays, the follow-up trains usually wait for interchanging passengers.
In general, traveling on a north-south axis – or in any direction from Helsinki – is fast and easy. However, traversing across the country from east to west or the other way around can take considerably longer.
Here is a public domain map of the Finnish railway network. The green routes serve both passengers and cargo, while the brown tracks are for freight traffic only.
What services are available on board the trains?
Long-distance trains in Finland offer plenty of services.
The Economy seats (2nd class) are quite comfortable. For extra comfort, the top floor of one car is reserved for Ekstra (1st class) passengers. The Ekstra class offers more space and free tea/coffee.
Most long-distance trains have a restaurant car. The meals are good and surprisingly cheap on Finnish standards. One part of the train allows traveling with pets, and another section has a playing area for kids.
There is complimentary WiFi available on the trains, and it works most of the time. The fee for traveling with a bicycle is 4-8 euros on long-distance trains. Taking a bicycle on a local train is free of charge.
How can I book a train journey in Finland?
All Finnish long-distance trains are operated by the national railway company VR. You can book tickets on their website VR.fi or their mobile app VR Matkalla (available on Google Play or App Store). In the capital area, you can buy local train tickets from the regional transport authority HSL and their mobile app.
Can I buy a ticket after boarding the train?
It is not recommended to do so. You can buy a ticket after boarding a long-distance train with a bank/credit card, but there might be no seats available. The train conductor also adds a service fee to the ticket if you buy it on the train. The service fee is 3 euros for trips of 1-75 kilometers and 7 euros for longer journeys.
In commuter trains, you need to buy and activate your ticket before boarding the vehicle.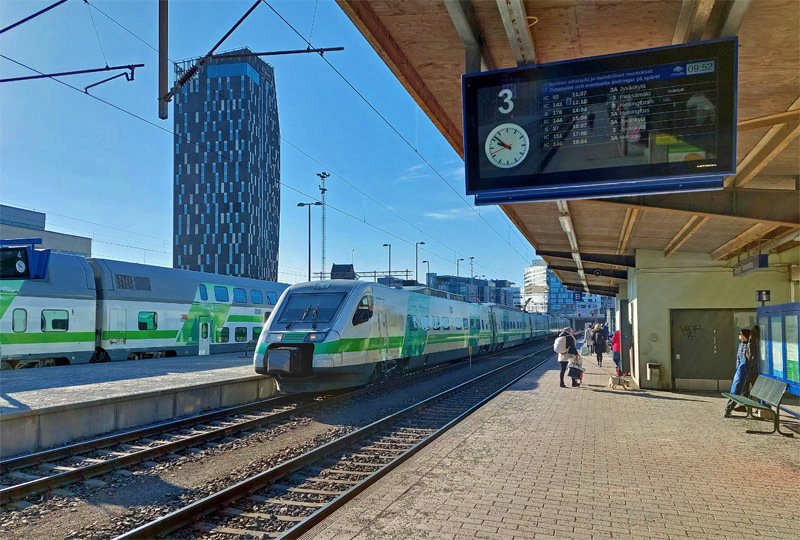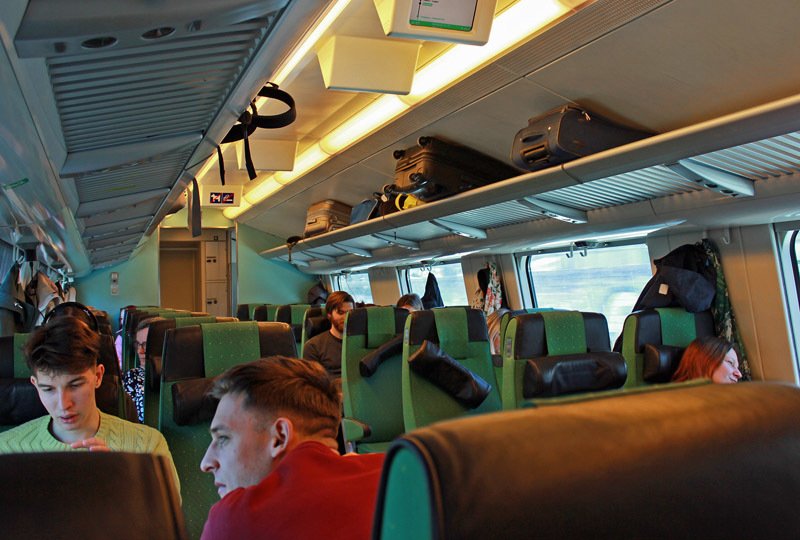 Finding Cheap Train Tickets in Finland
Are train tickets in Finland expensive?
Finland is known for its high cost of living, and train tickets are no exception. However, the ticket prices are not fixed and vary depending on the train's popularity. Booking early can help you find cheaper tickets.
For example, a direct train from Helsinki to Rovaniemi can cost as much 80-90 euros if it is almost fully booked. However, if you book well in advance, the 900-kilometer journey can cost as little as 20 euros.
What discounts are available for students and pensioners?
International student card holders are eligible for a 30% discount on long-distance trains. Pensioners receive a 20% discount. The discount is not applicable to cabins on overnight trains.
For commuter trains, the discount is 50 percent.
How can I find cheap train tickets in Finland?
If you want to explore Finland by train on a budget, it's best to book early. Here are some other tips to save on train tickets:
Commuter train tickets have fixed prices. The trains travel between major cities in the south. If you buy a ticket at the last minute, local trains tend to be cheaper.
If you regularly travel the same route, consider purchasing a multi-ticket or a season ticket for that specific route. Although traveling with a multi-ticket is more expensive than booking early, it's cheaper than buying last-minute tickets.
In the summer, an unlimited holiday ticket is available, in addition to Interrail/Eurail tickets.
Train Connections in Finland
Where can you get in Finland by Train?
Most major cities in Finland are connected by tracks. As most Finns live in the south, the southern areas and the west coast have the best connections..
The northernmost train stations are in Kolari (Western Lapland) and Kemijärvi (Eastern Lapland). However, few trains head that far north. Most trains to Lapland make their final stop in Rovaniemi, the capital of the region.
What types of trains operate in Finland?
The trains in Finland generally fall into four categories: commuter trains, regional trains, InterCity trains, and Allegro express trains.
Commuter trains operate in the capital region. They also travel between Helsinki and nearby towns in the south. There are also new commuter train connections in Tampere.
Regional trains travel slowly and make frequent stops in smaller towns. They are less comfortable than the faster trains.
InterCity (IC) trains are the most popular long-distance trains. Some InterCity trains stop in smaller stations, but not all of them.
The Allegro express trains are the fastest trains in Finland – at least in theory. They can travel slightly faster than IC trains (220 vs. 200 km/h), but few railroad tracks support this top speed.
If an IC train makes fewer stops, it is usually quicker than an Allegro train. The so-called "high-speed trains" tend to be more expensive as well.
Are there any overnight trains in Finland?
Yes, you can take a night train to or from Lapland in the north. Note that the timetables are best suited for traveling to or from Helsinki to Rovaniemi. If you hop off on the way, you might need to wake up very early.
In the past, one could book a bunk in a shared cabin with strangers. However, due to COVID, you now need to book a whole 4-bed cabin for yourself or your group. This makes the sleeper cabins more expensive than what they used to be.
If you can tolerate some discomfort, you can also book a regular seat on a night train.
Finland by Train – A Travel Guide
This travel guide explains how to travel around Finland by train. But what about buses?
You can purchase tickets for all long-distance coaches on the Matkahuolto website. The budget-friendly OnniBus service also has its own website. If you want a reserved seat on an OnniBus coach, you'll need to book your trip through their website.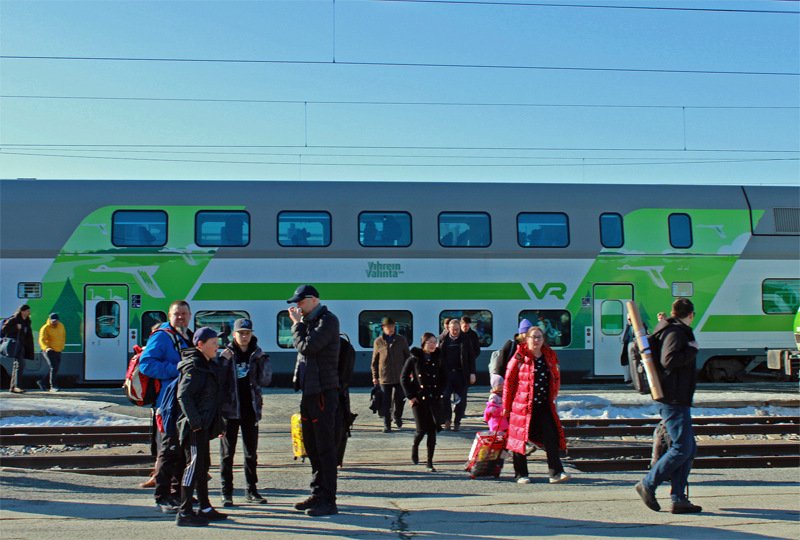 Like trains, most coaches have variable prices that depend on how far in advance you book your ticket. To find the cheapest and the most suitable services, you can check the Pikavuorot.fi website, which displays all the available public transportation options for your route.
Although trains are usually the fastest and most comfortable option for popular routes, buses can be more convenient for reaching areas that are not connected by the railway network.
Although there are no international train connections to or from Finland, the country has a well-developed railway system covering most of the country. Overall, traveling by train in Finland is an excellent way to experience the country's beauty and charm.