How to Get to Spain without flying? In this guide, we explore ways of reaching Spain by land and sea.
Spain is located in the Iberian Peninsula in southwestern Europe. Its location at the intersection of the Atlantic Ocean and the Mediterranean Sea makes it easily accessible for ships from America and Africa. Spain can also be entered by overland routes from Europe.
I have previously written multiple guides for flightless travel to Europe:
If you want to know more about flightless travel to Europe, you can find more information in those articles. In this case, however, we are narrowing our focus on how to travel to Spain without flying.
This guide is divided into three sections. First, we'll explore flightless routes from America to Spain. After that, we'll explore departures from Africa and Europe, respectively.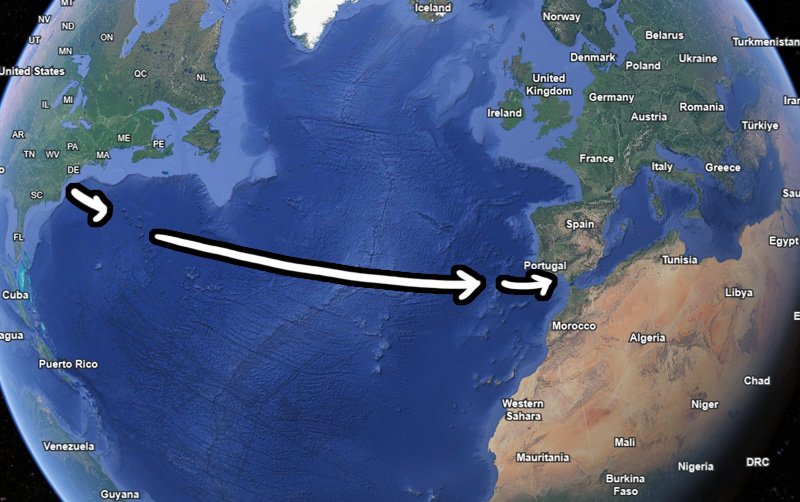 How to Get to Spain without Flying from America
Sailing from America to Spain
See also: How Long Does It Take to Sail the Atlantic?
If you wish to sail across the Atlantic, typical journeys from America to Europe begin from the Caribbean and the Bermudas. The presence of westward trade winds near the equator makes sailing the other way around. A typical sailing voyage from America to Europe takes 3-4 weeks.
The most common eastward route heads towards the islands of the Azores. From there, it is common to continue the journey towards the coasts of Spain and Portugal. If you don't have access to a sailboat, you can try to find a passage on websites such as FindaCrew.net and CrewSeekers.net. These services connect captains with crewmates willing to work for their passage.
At the time of writing in September 2023, I could find three captains looking for crew planning to sail across the Atlantic on FindaCrew: one departing from Guatemala, and two others starting off from the United States (Connecticut and Florida).
Cruises from America to Spain
At the time of writing, I could find over 50 upcoming cruises from America to Spain. Nearly half of them were going to depart from the United States, with other popular countries of departure being Brazil and the Dominican Republic.
The shortest transatlantic cruises to continental Spain take around 10-12 days, with prices starting from $1000-2000. For example, a cruise from Baltimore, USA, to Malaga in Spain takes 10 days with 2-person cabins costing around $1800 or more.
However, If you avoid flying for environmental reasons, you should note that cruises produce more CO2 emissions than commercial flights.
What about cargo ship travel?
See also: How Long Does It Take a Cargo Ship to Cross the Atlantic?
Luckily there is one way of crossing the Atlantic on a large ship with minimal CO2 emissions: freighter travel. Compared to cruises, cargo ship travel is considered almost CO2 neutral. On average, freighter travel costs $100-150 per day, including meals. A transatlantic journey takes around 10-15 days, resulting in a total cost of $1000-3000.
The easiest way to book a freighter voyage is to use a specialized travel agency. I used Freighter Travel (NZ) on my 18-day transpacific journey from New Zealand to California, but other companies such as Cargo Ship Voyages, Slowtravel, and Voyages en Cargo work just as well.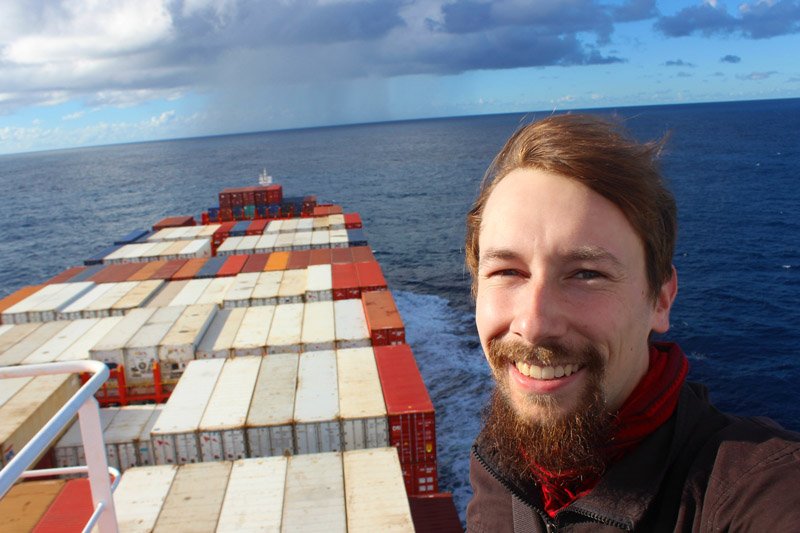 At the time of writing, COVID was limiting the amount of available freighter cruises. Still, I was able to find a few journeys from America to Spain. Voyages en Cargo offers an 11-day journey from Miami to Algeciras, Spain, for $1200. Meanwhile, Slowtravel offers a route from Cuba to Bilbao in Spain via Canada that takes around 3 weeks and costs $2000-3000.
Taking a Ferry from Africa to Spain
See also: How to Travel from Europe to Africa without Flying
At the narrowest point of the Gibraltar Strait, Spain is from Morocco by less than 15 kilometers (9 miles). As one might guess, it is possible to take a ferry from Morocco in Africa to the southern coast of Spain.
Multiple ferries operate between Morocco and Spain. The most popular route from Tangier, Morocco, to Tarifa in the southern tip of Spain runs several times a day. The journey takes approximately one hour and costs around $40. This guide has more information about ferries from Morocco to Spain.
Further south, the Spanish archipelago of Canary Islands is located west from the coast of Africa. This offers another option for reaching Spain from Africa by boat. In 2020, a ferry connection from Morocco to Canary Islands was planned, but the plans haven't come to fruition. Though uncommon, it is possible to hitch a ride on a sailboat from Morocco to the Canary Islands, as this blogger has done.
Once you reach the Canary Islands, you can take a ferry from Las Palmas to either Cadiz or Huelva in continental Spain.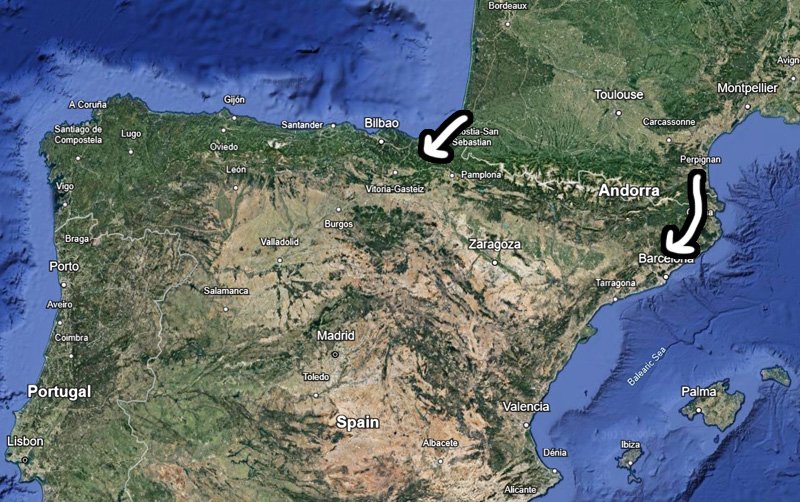 How to Get to Spain without Flying from Europe
Finally, we'll explore ways of reaching Spain without flying from Europe. If you're planning a longer journey from Asia, my previous guide called How to Get to Europe without Flying will help you reach the continent first before continuing to Spain.
Spain shares its largest land borders with France and Portugal. In this section, we'll focus on overland routes from France to Spain, as this is the journey most of you would take.
Train Travel to Spain
There are two ways of reaching Spain by train. The most popular route connects France and Spain on a high-speed railway in the east. Using this route, one can travel from Perpignan in France to Barcelona in 1 hour and 20 minutes. There are a few departures each day, and prices start from around €40.
In the west, a less common route connects the west coast of France with the northern parts of Spain. Over here, the train stations of Hendaye in France and Irún in Spain are only 2 kilometers away from each other, with frequent departures in between.
At the moment, the railway connections in this region are not as developed as in the east, but the situation is currently improving. The Basque Y high-speed rail network is currently under construction, with operations expected to start in the late 2020s. This network will make train travel within Northern Spain better, while also improving the train connections between France and Spain.
Taking a Bus to Spain
It is fairly easy to take a bus to Spain. Multiple companies such as the intercontinental Flixbus, French BlaBlaCar Bus, and Spanish Alsa offer routes to Spain from France and other parts of Europe.
In general, the buses tend to be quite cheap yet slow in comparison to trains. For example, an Alsa bus from Bordeaux to Madrid can cost as little as €25 for a 9-hour direct journey. Prices for a shorter 2.5-hour-journey on a Flixbus from Perpignan to Barcelona start from €9.
Other Ways of Reaching Spain from Europe
Besides trains and buses, you can also rent a car, hitchhike, or share a ride to get to Spain. Traveling by land in Europe is not difficult, but if you wish, you can also travel by water. This guide shows different ferry routes to Spain.
In the Atlantic, you can take direct ferries from England and Ireland to Spain. In the Mediterranean, ferries connect Spain with France and Italy.
How to Get to Spain without Flying – A Summary
In summary, flightless travel to Spain is not too difficult. Spain's geographical position at the confluence of the Atlantic Ocean and the Mediterranean Sea makes it an accessible destination for those arriving by sea from both America and Africa, as well as by land from Europe.
Sailing across the Atlantic, typically commencing from the Caribbean and the Bermudas, is a possibility, with prevailing westward trade winds facilitating the voyage. Alternatively, cruise options abound, although environmental considerations regarding CO2 emissions come into play. A more eco-conscious choice lies in cargo ship travel, which offers a nearly carbon-neutral alternative.
Travelers from Africa may traverse the narrow Gibraltar Strait to Spain via a ferry, while the Canary Islands offer another maritime route. However, the latter requires securing passage on a sailboat.
Lastly, European travelers may explore overland routes from France, predominantly connected via high-speed rail in the east, as well as a developing rail network in the west. Bus options are also available, with affordability counterbalanced by longer travel times.
Whatever you choose, I recommend you to take the environment into consideration as you plan your trip. If you are not able to travel without flying, I recommend compensating for your CO2 emissions with an organization such as Cool Earth. Though not without its challenges, compensating for your emissions is much less expensive than one might expect.