How to get to Portugal without flying? This guide explains how you can travel to Portugal by land and sea.
Portugal, a country of rich history, stunning landscapes, and vibrant culture, beckons travelers from around the world. In this article, we will uncover a range of creative and sustainable ways to embark on your Portuguese journey.
In the first section of the guide, we explore ways of traveling from Spain to Portugal without flying. After that, we expand our perspective to other parts of Europe, before finally investigating departures from the rest of the world.
How to Travel from Spain to Portugal without Flying
The most western European state is bordered by one other country – Spain. As one might guess, there are multiple border crossings between the two countries. Border control between the countries is minimal.The Spain–Portugal border is over 1,200 kilometers (750 miles) long, and there are dozens of places where you can cross the border.
Traveling from Spain to Portugal by Bus and Train
At least four major bus companies operate between Spain and Portugal: international BlaBlaCar and Flixbus, Spanish Alsa, and Portuguese Gipsyy. For example, a Flixbus from Madrid to Lisbon takes around 8-9 hours with prices starting from €20.
If you wish to cross the border by train, you have a few routes to choose from, though finding tickets and information online can be a challenge. In the north, at least four daily trains cross the border between Tui in Spain and Valença in Portugal. Further south, a regional train also crosses the border between Badajoz and Elvas twice a day.
(Another set of tracks crosses the border near Vilar Formoso, Portugal, but I wasn't able to find any information about possible passenger traffic online.)
At the time of writing, Portugal was upgrading its railway network with new high-speed connections around the corner. According to some sources, fast train connections between Spain and Portugal might be on the horizon in the late 2020s.
A previous direct train between Madrid and Lisbon ceased operation during the COVID pandemic and hasn't returned to operation.
Other Ways of Crossing the Spain–Portugal border
Many parts of the Spain–Portugal border are defined by rivers such as the Guadiana River in the south. Besides bridges, it is also possible to cross the water on a ferry. One ferry route connects Ayamonte, Spain, and Vila Real de Santo António, Portugal, in the southernmost point of the border.
You can read more about the Ayamonte – Vila Real ferry in this guide.
If you want to get even more creative, you can even travel from Spain to Portugal on the world's only cross-border zipline. The Limíte Zero zipline costs €20 and crosses the Guadiana River from Sanlúcar de Guadiana to Alcoutim. You can have your luggage transported to the other side on the local ferry.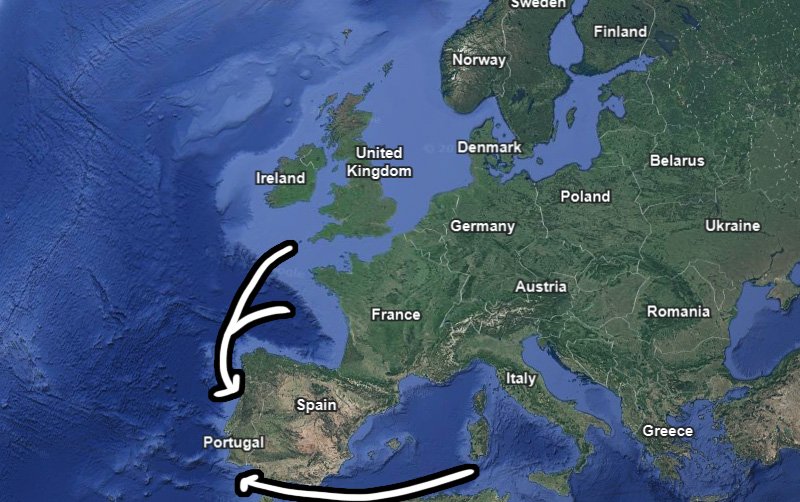 How to Get to Portugal without Flying from Europe
If you wish to travel from Europe to Portugal without flying, you will most likely head to Spain first. I have explained how to reach Spain in my previous guide "How to Get to Spain without Flying".
There are no regular ferries between Portugal and the rest of Europe besides Spain. At the time of writing, I could find 60 cruises from different parts of Europe to Portugal. A third of these cruises departed from Spain, but other common countries of departure included England, France, and Italy. For example, a cruise from Genoa, Italy, to Lisbon would take around 5 days with prices starting from around €800 per cabin.
However, if you avoid flying for environmental reasons, it is worth noting that cruises may produce more CO2 emissions than commercial flights. After my own experiences, I am personally a fan of freighter travel – an adventurous and more sustainable alternative to cruises – but I haven't found any cargo ship cruises that would allow disembarking in Portugal.
Reaching Portugal from Other Places
Are you wondering how to get to Portugal without flying from other parts of the world? Direct routes are quite uncommon, but there are some ways of traveling to Portugal without passing through Spain and Europe.
At the time of writing, I could find 21 cruises from other continents to Portugal. Most of these crossed the Atlantic from the Caribbean and other parts of America, but two cruises departed from Africa and one from Asia.
You can also reach Portugal on a sailboat. If you don't have your own sailing boat, you can try finding opportunities to work for your passage through websites like Findacrew.net and CrewSeekers.net. In September 2023, Findacrew.net listed only one boat planning to sail across the Atlantic to Portugal. However, the availability of sailboats varies by season.
According to Life of Sailing, an eastward crossing of the Atlantic takes around 4 weeks. This includes a week of sailing to Bermuda, two weeks or more from Bermuda to the Azores, and another week from the Azores to the coast of Portugal.
Even though direct travel to Portugal is an option, it is most likely better to reach other parts of Europe first. The following guides cover ways of reaching Europe without flying: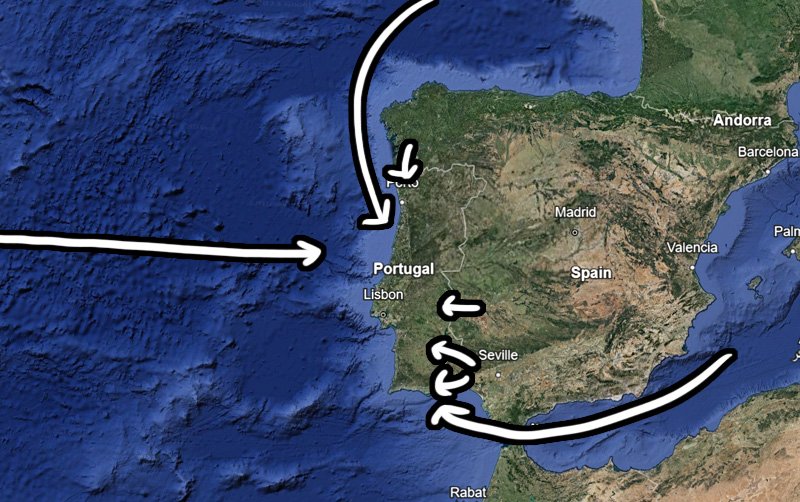 How to Get to Portugal without Flying
If you're keen on exploring Portugal without taking a flight, this guide provides practical alternatives by land and sea.
Spain and Portugal share a 1,200-kilometer border with minimal border controls. Buses like BlaBlaCar and Flixbus offer budget-friendly options from Madrid to Lisbon, taking 8-9 hours and starting at €20. Trains are available but ticket availability can be tricky. Moreover, Portugal is modernizing its rail network, hinting at future high-speed connections.
For travelers from Europe, Spain is often the gateway to Portugal. Cruises are an option, but they may emit more CO2 than flights. Cargo ship travel is a greener alternative, but no direct routes to Portugal are available.
For travelers from Europe, Spain is often the gateway to Portugal. Cruises are an option, but they may emit more CO2 than flights. Cargo ship travel is a greener alternative, but no direct routes to Portugal are available.
In summary, Portugal provides various travel options from Spain, Europe, and beyond, making it accessible without the need for air travel.