I have been to 68 countries. I plan to write about all of them, but I nearly forgot one.
Writing this series of 30 Travel Memories has been a massive undertaking. I've spent months writing the stories, editing pictures and planning the series. My goal is to fill gaps in the blog and write about countries I haven't previously written about.
Once this series is complete, I have written about all but two of the 68 countries that I've visited. (Posts about Luxembourg and Iceland will soon follow.) However, I nearly missed one country completely.
As I was finishing this series, I realized I had not written about Austria. I decided to fix the shortcoming with these recollections.
First Visit to Austria
I have been to Austria twice. I have even mentioned both visits in previous Travel Memories. But for some reason, I had forgotten to plan a separate post about the fcountry.
My first visit came in 2012. I picked destinations for my first Interrail trip by throwing darts on the map of Europe. One of the darts hit Feldkirch, a small town on the western end of Austria. I've mentioned this visit on my story about Liechtenstein (see Travel Memory #6).
My stay in Feldkirch was interesting. It was my first pre-planned Couchsurfing experience. I stayed with local Couchsurfer Sarah who had traveled in Asia in the past. In hindsight, I think we'd have much more to talk about now.
Feldkirch is a town of 30,000 people. It is rarely visited by travelers, and Austrians are often surprised when I say I've been there. It's like going to the United States and only visiting Vermont.
I remember being amazed by the landscape of Feldkirch. There was a mountain close to my host's apartment. To me, it felt amazing that one could see such a mountain from their own home. I talked about this with my host. She said she was used to the mountains.
I also changed trains in Vienna and spent a few hours there. Unfortunately I lost my camera a bit later (Travel Memory #21), so I don't have any photos from my stay in Austria.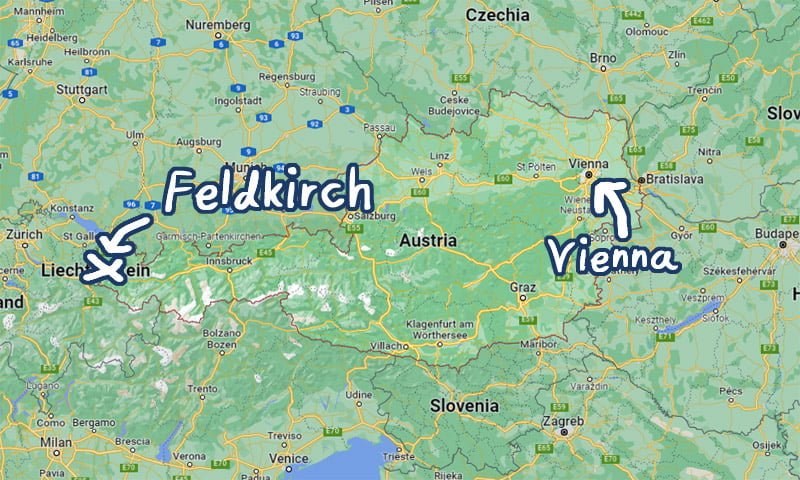 Scratching the Surface
I returned to Austria a year later on a project called On the Road of Dreams (Travel Memory #3). My friend Olli and I spent a day in Vienna before we were supposed to continue our journey to Croatia. I say "supposed to" because we boarded a wrong train and ended up in Romania (Travel Memory #5).
When I've been to Vienna, the city has felt too polished to my taste. In my recollections, the city center feels fancy yet lifeless. I haven't felt l like I belonged there.
However, I have never been to Vienna overnight, so my perspective is very limited. I should fix that at some point.
If I spent more time in Vienna, I might understand more of the city and its mentality. When I first visited Austria, I was 20 years old. Perhaps I could appreciate its history and culture more at an older age?