I've survived my travels with relatively few misfortunes. However, I did get mugged on my first solo trip at the age of 20.
I'm often asked if anything bad has happened on my travels. During my 2-year trip around the world, I only had to visit a doctor twice: once for a medical check for my cargo ship voyage across the Pacific, and once because I had hit my toe and broken my toenail.
I think I've stayed safe because I learnt my lesson early. I got mugged in Italy during my first Interrail trip in Europe in 2012, and that taught me to be extra careful.
A Walk in the Middle of the Night
In hindsight, it's clear that I made many mistakes that led to me getting mugged. I was spending the night at the Turin train station, waiting for a morning train and saving money on accommodation. As hours passed slowly, I thought I could go for a walk to take pictures to pass the time.
I walked in the city center of Turin in the middle of the night with my backpack on and my SLR camera hanging on my neck. I walked along the bigger main roads, but there was a moment when I turned to an alleyway as I wanted to avoid walking past two people I saw standing nearby.
(A few moments later, these were the people who called an ambulance and a police for me.)
I turned to an alleyway, thinking it was safe as it was well-lit, empty and surrounded by buildings. At this moment, I made several errors of judgment:
Buildings don't help if they're closed university buildings.
A street doesn't necessarily stay empty if your future muggers patrol the streets on bicycles.
A few moments later, my two muggers came to me on bicycles, and after a brief interaction, they started pulling my camera from my neck. They were also able to take a cheaper compact camera that I had in my pocket.
If I had not tried to resist, I would have come through unscatched. But as I needlessly tried to fight back, I ended up getting a few kicks to my face.
Absurd Moments
The whole "getting mugged in Turin" experience was full of absurd details. For example, the muggers – who didn't speak English – repeated the French footballer Zidane's name as they approached me.
My experiences with the Italian police were also amusing. A police officer told me I could visit a secret black marketplace in the morning to buy my camera back. He also told me that the police at the station spoke good English. Neither of those things were true.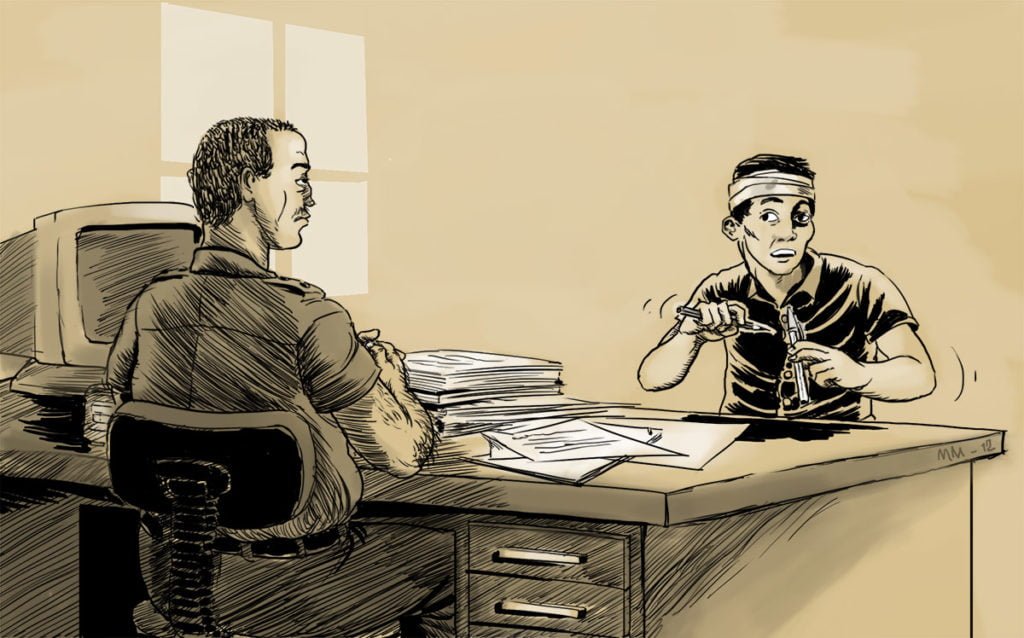 I did not speak Italian, so my interactions with the police were very limited. I used items at the police station's table to visualize my mugging, and the officer translated his report to English with Google Translate.
As a result, the text included sentences such as "The police did intervene ambulance and was treated to the wound that caused me the gangster with calcium launched earlier".
Learning from My Mistakes
A few of these 30 Travel Memories take place during my first Interail trip (e.g. Travel Memory #6). Sadly I lost all my pictures from the trip once when I got mugged.
Getting mugged was not a fun experience, and I felt ashamed of my carelessness. However, I do believe that it has helped me stay safe on later trips. I'm extra careful while walking in new cities – especially after dark – and I often spot risks very early.
I have lost some money to scammers over the years, but in general, I haven't had many bad experiences on my travels. There have been two times when I've fled a threatening situation early before anything could happen, and I think my experience in Turin helped to assess the situation quickly.
Losing two cameras at once felt like extremely bad luck. What could be worse? Well, a year later, I surpassed that record when I had three cameras stolen at once in Sweden.
You can read that story in the next Travel Memory.