Can I travel to Iceland by ferry? Yes, you can! This guide shows how to get to Iceland without flying on a ferry, a boat or a freighter.
How to get to Iceland without Flying?
Iceland is a dream destination for many travelers. If you wish to avoid flying, the island's remote location can feel worrying. Luckily it's possible to reach Iceland by sea. This guide tells you how.
Reaching Iceland on a ferry from Denmark (Option 1)
Can I get a boat from US to Iceland?
There are no direct ferries or boatsfrom North America to Iceland. However, there are some cruises from Canada and the United States to Iceland. For example, a cruise from New York to Reykjavik takes 11 nights and costs roughly 1,600 euros or US dollars.
How can I take a ferry to Iceland?
The only international ferry goes from Denmark to Iceland via Faroe Islands.
The Smyril Line ferry from Denmark to Iceland is the most popular way to get from Europe to Iceland without flying. The ferry departs from Hirtshals, Denmark. After a stop in Tórshavn, Faroe Islands, you'll arrive in Seyðisfjørður on the east end of Iceland after two nights on board. The ferry leaves twice per week in the summer and once in the spring and the fall.
The prices of the journey depend on multiple factors. These include the timing and the type of cabin you'll have. To give you an idea, a one-way trip from Denmark to Iceland in a shared couchette with meals would cost around 500 euros or US dollars.
It's important to note that the ferry arrives at the east end of Iceland. A bus to the capital Reykjavik on the west coast takes 12.5 hours.
Travel from UK to Iceland by Ship (Option 2)
Can you get a ferry from Scotland to Iceland?
No, not anymore. In the past, there used to be regular ferries between Scotland and Iceland. Those days are long gone, but it's still possible to travel from the United Kingdom to Iceland overseas. The journey just won't be either cheap or quick.
Can I get to Iceland by boat?
Companies such as Another World Adventures offer adventures from Scotland to Iceland on a sailboat. AWA's expedition takes 12 days and costs around 2,900 euros or US Dollars. The sailing trip goes by the Faroe Islands.
It is theoretically possible to catch a ride on a non-commercial sailboat. Such opportunities just seem extremely rare in these cold waters.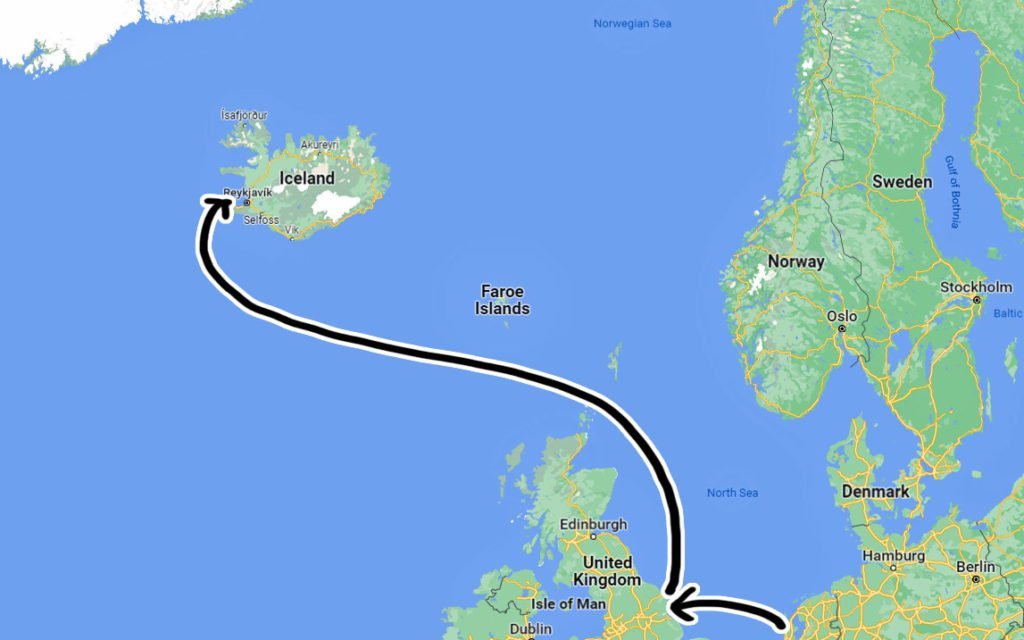 Cargo Ship Voyage to Iceland (Option 3)
See also: How to Prepare for Traveling on a Cargo Ship?
Ever since my 18-day freighter voyage across the Pacific, I have been a big supporter of freighter travel. Traveling on a cargo ship can be a unique experience. It's an environmentally friendly mode of transport, too. But is it possible to travel from Europe to Iceland on a cargo ship? Yes, sort of.
At least the company Slowtravel offers cargo ship journeys from the Netherlands or England to Iceland and back. Unfortunately they only book round trips. It might be possible to find a one-way voyage from some freighter travel company such as Cargo Ship Voyages or Freighter Expeditions. Freighter travel costs around 100 euros or US dollars per day, food included.
It might be possible to get from North America to Iceland on a freighter. I just didn't find anything about such connections during my research.
Get to Iceland without Flying Sustainably
What's the most environmentally friendly way to travel to Iceland?
Many of us want to avoid flying for environmental reasons. But are the options I've listed above any better? Yes, at least some of them are. But the differences are not always very big.
The CO2 emissions of sailing are very minimal. Therefore a sailing trip from the UK would be a good choice. The emissions of one passenger on a freighter are close to zero (with a few considerations). However, traveling on a cruise ship is another story.
Cruises can cause more CO2 emissions than flights. The Smyril Line ferry from Denmark to Iceland – MS Norröna – is not a full-blown cruise ship, but it's not a small ferry either. How polluting is it?
The CO2 Emissions of Smyril Line
It's difficult to estimate the CO2 emissions of the ferry from Iceland to Denmark. According to Positive Travel, the average CO2 emissions for a passenger on a ferry are 18 grams per kilometer. I'd estimate the ferry journey to be about 1900 kilometers. In total, that would make the CO2 emissions of the ferry ~34 kilograms per person.
In comparison, a direct flight from Copenhagen to Iceland emits roughly 180 kilograms of CO2 for each passenger. That's over five times as much!
On the other hand, some calculations estimate the CO2 emissions of the ferry to be much higher.
The blog Alarichell refers to a Master's Thesis by Viðar Jökull Björnsson, where Björnsson estimates that the one-way emissions equate to 347.2 kg per person. However, Alarichell points out that these figures "seem not to account for a proportion of Smyril Line's business being freight rather than passengers".
(I tried to contact Björnsson for his thoughts about this, but I didn't receive a reply.)
Environmental Travel to Iceland
If you wish to live as environmentally as possible, you should stay home. But if you do choose to travel, there are a few things you can do to reduce your carbon footprint.
If you fly to Iceland, make your flight distance as short as possible. Travel overland towards Iceland for as long as you can and take a direct flight to Reyjkavik. The shortest direct flights from Europe to Iceland depart from Glasgow and Edinburgh in Scotland (1300-1400 kilometers) and Bergen in Norway (1450 kilometers).
Do note that sustainability comes with a price. Despite the shorter distance, flights from Glasgow or Edinburgh to Reykjavik cost 2-3 as much as flights from London.
Whichever mode of transportation you choose, you can always compensate your CO2 emissions. I used the German non-profit organization atmosfair to offset the CO2 emission of my 2-year trip around the world (!xlinkki). Other similar organizations include myclimate and Sustainable Travel.
How to Get to Iceland without Flying
For one reason or another, you came here to learn how to get to Iceland without flying on a ferry or something else. I don't want to fill your head with too many details, so this flightless travel guide offers an overview of different options. After this, you can follow the links on the page for further research.
I have personally been to Iceland just once as a teenager in 2007. Here is a picture from that trip. I did attempt a mostly flightless trip to Iceland in the summer of 2022, but that didn't go as planned. You can read more about that attempt below.