How to get to England without flying? Here's a guide on traveling to the United Kingdom without a plane from either Europe or America.
In this guide, we will explore how to get to England without flying. However, it's important to note that while our focus is on England, this guide applies to all of Great Britain. After all, once you reach England without flying, you can easily access most parts of the UK.
If you find yourself confused about the terms, you can read a more comprehensive explanation of the differences between England, Great Britain, and the United Kingdom in this article.
This guide is split into two parts. First, we explore ways of traveling to England from America. Next, we'll go through flightless routes from Europe to the United Kingdom.
How to Get from America to England without Flying
See also: How to Travel from USA to Europe without Flying
In this section, we'll explore how to get to England without flying from America. Even though America refers to the whole continent, I am mostly focusing on departures from the United States.
Taking a Cruise from America to England
To get from America to Europe without taking the skies, you need to cross the Atlantic Ocean. There are several ways to do this. In some cases, you can reach England directly, while with others, you'll land in other parts of Europe first.
It is possible to cross the Atlantic on a cruise from America to Europe. Many transatlantic cruises arrive in Southampton, England. For example, a voyage from New York to Southampton on the ship Queen Mary II takes around 7 days with prices starting from $800.
However, if you're concerned about the environment, note that cruises may produce more CO2 emissions than commercial flights.
How to Sail from America to England
See also: How Long Does It Take to Sail the Atlantic?
Sailing from America to Europe is also possible, though more common in the opposite direction due to prevailing trade winds that blow westward near the equator.
If you're sailing from America to Europe, you need to sail further north in harsher weather to have the wind on your side. For those trying to reach England, that might actually be beneficial as some sailing routes go to England directly.
The most common eastward sailing route from America to Europe heads towards the Azores archipelago (Portugal), with a possible stop in Bermuda on the way. Sailing this route usually takes around 3-4 weeks.
However, it is also possible to sail from the United States to England directly. In fact, the sailing record for a transatlantic crossing from New York to Cornwall, England, is mere 3 days and 15 hours!
If you don't have access to a sailboat, you can try to find a passage on websites such as FindaCrew.net and CrewSeekers.net. These services connect captains with crewmates willing to work for their passage.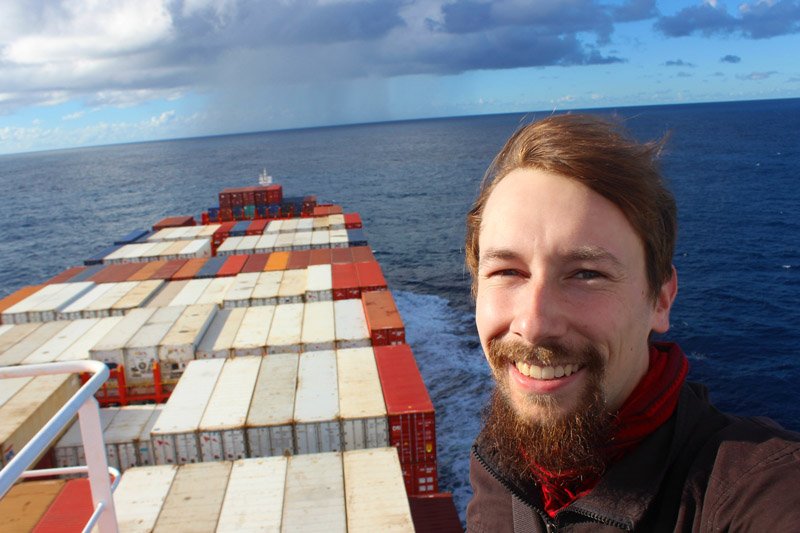 Traveling to England on a Cargo Ship
See also: How to Prepare for Cargo Ship Travel? (Booking a Passage)
Freighter travel is another option for getting from America to Europe. Compared to cruises, it's considered nearly CO2 neutral.
The easiest way to book a freighter voyage is to use a specialized travel agency. I used Freighter Travel (NZ) on my 18-day transpacific journey from New Zealand to California, but other companies such as Cargo Ship Voyages, Slowtravel, and Voyages en Cargo work just as well.
Cargo ship travel can be more expensive than taking a cruise. On average, freighter travel costs $100-150 per day, including meals. A transatlantic journey takes around 10-15 days, resulting in a total cost of $1000-3000.
The availability of cargo ship cruises depends on the COVID situation and other conditions. At the time of writing, I wasn't able to find any direct freighter cruises from America to England, but in the past, an 11-day journey from New York to Liverpool took around 11 days and $1500.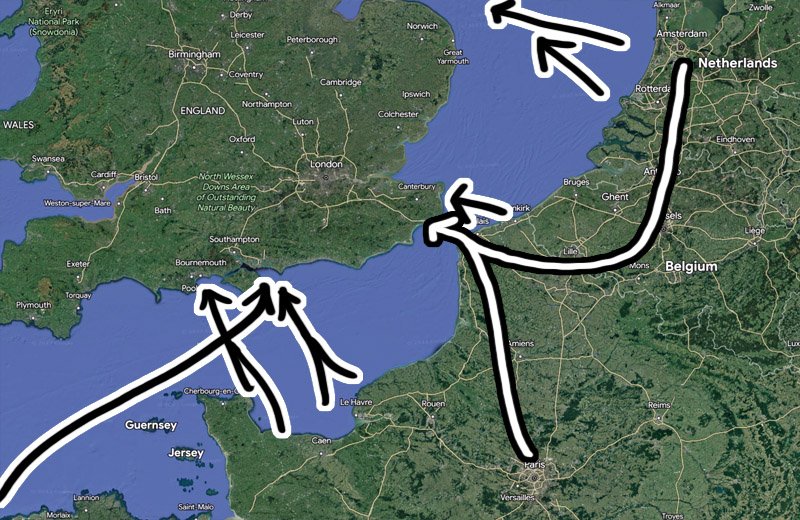 How to Get from Europe to England without Flying
Of course, most visitors to the UK who prefer not to fly either start their journey in continental Europe or travel through it. In this part of the guide, we will explore various ways to reach the island of Great Britain by train, ship, or even bus.
Since the United Kingdom left the European Union, visiting the country has become more complex. Make sure to check the regulations for your nationality as you plan your trip.
How to Take a Train to England
The Channel Tunnel is the most famous non-flying route to England. Completed in 1994, this 50-kilometer (30-mile) long underwater tunnel enables train travel between England and France.
Passenger trains in the tunnel are operated by Eurostar, and you can book tickets on their website. In addition to France, you can also start your journey in Belgium or the Netherlands. The train from Paris to London takes around two hours and 15 minutes, and a direct train from Amsterdam to London takes just four hours. The actual crossing of the tunnel takes 35 minutes.
The main issue with Eurostar is the ticket price, which fluctuates based on popularity. It's advisable to book early. At the time of writing, a train ticket from Paris to London for the upcoming days costs a minimum of €247, while departures months in advance start from €63.
Taking a Coach from Europe to the UK
If you want to save money, there's a surprising option for your journey to England: taking a bus. This is what I did during my mostly flightless 2-year trip around the world.
The Channel Tunnel accommodates coaches alongside trains, allowing you to save on ticket prices, albeit with a longer journey. Operators BlaBlaCar Bus and FlixBus serve this route
As of now, I could get a bus from Paris to London tomorrow for as little as €37 – less than 15% of the train fare. Booking well in advance only offers a slight discount. On the downside, the bus journey takes considerably longer than the train, with a minimum travel time of 8 hours from Paris to London.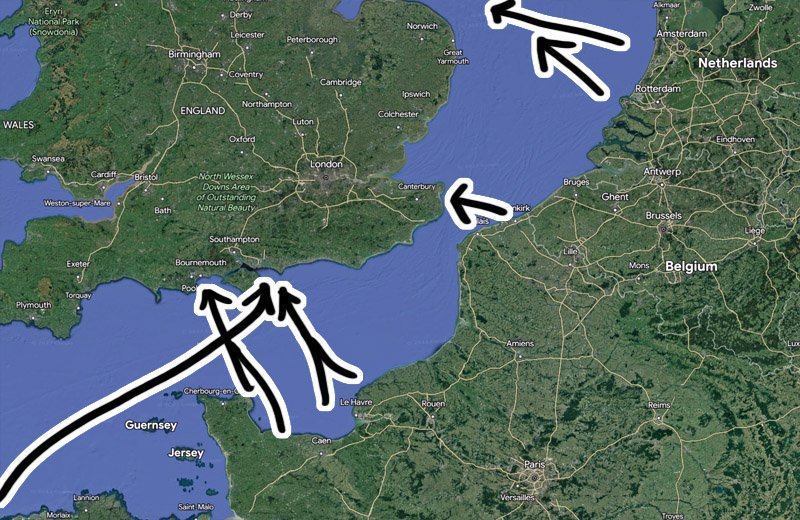 Traveling to England by Boat
In addition to the underwater tunnel, it's also possible to reach England while staying on the surface. The shortest ferry routes to the United Kingdom depart from France and the Netherlands, with several departures from both countries.
When taking a ferry from France to England, you can choose from multiple different ports of departure. One of the fastest journeys is from Calais, France, to Dover, which takes around an hour and 30 minutes and costs approximately €40 for a foot passenger.
From the Netherlands, there are three departure ports for ferries to England: Amsterdam, Rotterdam, and Hook of Holland, which is adjacent to Rotterdam. The shortest journey is from Hook of Holland to Harwich, taking 6 hours and 30 minutes for daytime service or 9 hours and 30 minutes for an overnight ferry. Ticket prices for this route start at around €85.
Besides France and the Netherlands, the United Kingdom also shares some ferry connections with other countries such as Ireland and Spain. For example, a ferry from Bilbao in Spain to Portsmouth in England takes 30 hours.
How to Get to England without Flying – A Summary
In conclusion, if you're looking to travel to England without flying, there are several options available to you.
If you're departing from America, transatlantic cruises offer a popular way to reach England. However, it's important to note that cruises may not be the most environmentally friendly option. Though less common, sailing is also a possibility. Traveling on a cargo ship is worth considering as well.
For travelers coming from Europe, the Channel Tunnel provides a convenient and direct route to England. Eurostar trains operate through the tunnel, and if you're on a budget, coaches that fit into the Channel Tunnel offer a longer but cheaper alternative to trains. Alternatively, you can choose to travel by ferry, with routes departing from France and the Netherlands.
Whichever option you choose, embrace the adventure and enjoy your flightless journey to the United Kingdom.