Looking for a random island in the Caribbean? This random Caribbean island generator picks a random island from all the possible options.
The Caribbean is a subregion of the Americas. Located east of Central America, the Caribbean is the home of 13 sovereign countries as well as multiple dependent territories.
In total, there are over 700 islands, islets, reefs and cays in the area. This random Caribbean island generator includes them all.
If you want, you can use this randomizer for anything you like, including picking a random destination.
Random Caribbean Island Generator
Click the button below to get a random island in the Caribbean!
Your random island in the Caribbean is…
Special thanks to my friend Lauri for creating the original code for the generator.
How the Random Caribbean Island Generator Was Done
This is not the only random generator that I've done. This website, Arimo Travels, features over 40 random generators for different purposes. For example, I have created similar generators for random island names and island countries of the world.
This random generator is based on Wikipedia's list of Caribbean islands. In total, there are 785 islands in the list.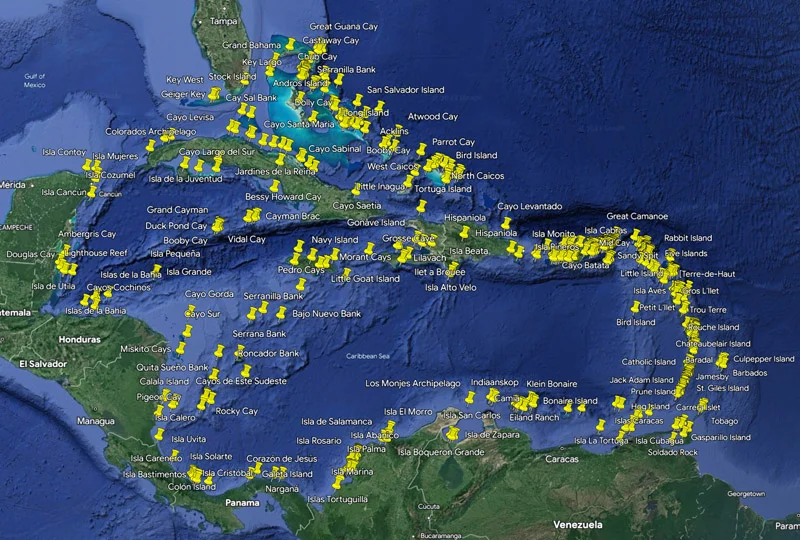 All results include a link to Google Maps. As many of the islands are unnamed on Google Maps, the links lead to the correct coordinates.
I started this website, Arimo Travels, as a travel blog for my own, mostly flightless 2-year trip around the world. After finishing that journey in 2018, I've kept expanding the site. Besides these randomizers, the site now focuses on guides for sustainable travel.

I haven't personally been to any of the Caribbean islands. However, I did visit one Caribbean destination during my trip around the world.
During that adventure, I spent three months traveling through Mexico by bus. I started my journey on the US border and finished it in Cancún, a city that borders the Caribbean Sea.
After Cancún, I let my blog followers pick my next destination. Central Africa lost the vote, so I flew over Central America and the Caribbean and continued my journey further south.