How to get to Egypt without flying? This guide explains how you can travel to Egypt without flying from Europe and other neighboring regions.
Is it possible to travel from Europe to Egypt without flying? In my previous guide, "How to Travel from Europe to Africa without Flying", I explored different flightless travel options between the two continents. In this guide, we will delve into ways of entering Egypt in more detail.
Egypt shares land borders with 3-4 countries: Israel, Libya, Palestine, and Sudan. However, it is also possible to reach the country by ferry across the Red Sea.
Traveling Directly from Europe to Egypt
As of 2023, there are no direct ferries from Europe to Egypt. The ferry connection from Cyprus to Alexandria, which reopened in 2019, closed during the COVID pandemic and has not resumed since.
Due to political unrest in the Middle East, booking other ferries from Europe to Egypt has also been suspended. At the time of writing, I also did not find any cruises that allow disembarking in Egypt.
But is it possible to travel from Europe to Egypt overland?
In theory, yes. In practice, probably not. Traveling from Europe to Israel through the Middle East is nearly impossible. Seat61.com lists different options for getting from Europe to Israel without flying, but currently, none of them are available.
How to Travel from Israel to Egypt without Flying
There is one tourist border crossing, the Taba Border Crossing, between Israel and Egypt. The border lies between Eilat in Israel and Taba in Egypt, and crossing it costs around $25.
If you want to learn more, you can refer to the comprehensive guide "Israel-Egypt Taba Border Crossing" on itraveljerusalem.com.
However, traveling to Israel without flying is quite challenging. Although a new ferry connection between Greece, Cyprus, and Israel has been discussed, it has not been implemented yet.
Although there are no ferries from Europe to Israel currently in operation, you can take a cruise from Europe to Israel. Many such cruises are available, departing from various ports in the Mediterranean.
It is worth noting that cruises may produce more CO2 emissions than commercial flights.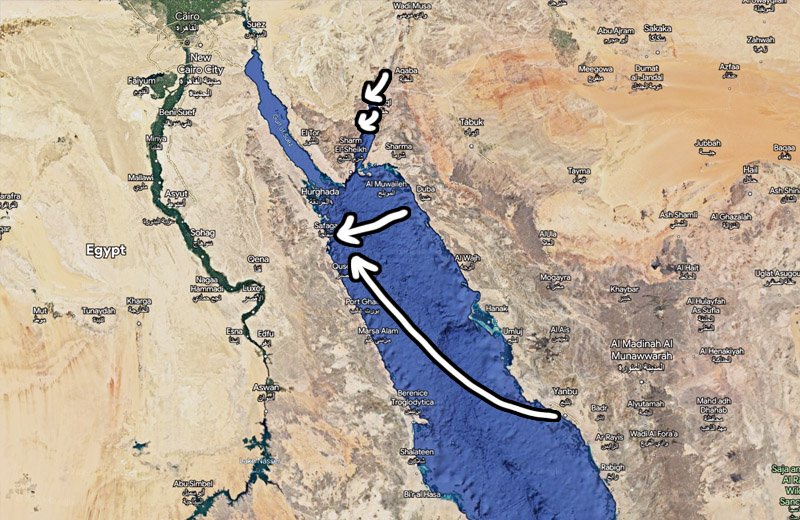 How to Get to Egypt on a ferry from Jordan or Saudi Arabia
Egypt shares a land border with just a handful of countries, but there are ferry connections available to some others. For most travelers, the most convenient ferry connections to Egypt start in Aqaba, Jordan, which is only 6 miles (10 kilometers) away from Egypt.
A ferry from Aqaba to Taba in Egypt takes only an hour, while a ferry further south to Nuweiba takes around four hours. These ferries operate almost daily.
There are also ferry connections between Egypt and Saudi Arabia. These ferries depart from Duba and Yanbu in Saudi Arabia and arrive in Safaga, Egypt. According to a recent report, an overnight ferry from Duba to Safaga took around 9 hours.
Other Ways of Reaching Egypt without Flying
Egypt shares its longest land borders with Libya in the east and Sudan in the south. If you are seriously considering these routes, make sure to study the most recent developments in the areas, as security situations may change rapidly. Even if the crossings were possible, you might need special permissions to visit the border areas.
The main point of entry from Libya to Egypt is the Salloum border crossing in the north. Before reaching Libya, you can get to Northern Africa first by taking one of the many ferries from Europe to Africa. These include ferries from Spain to Morocco and Italy to Tunisia.
You can find more information about these ferry connections in my guide "How to Get from Europe to Africa without Flying".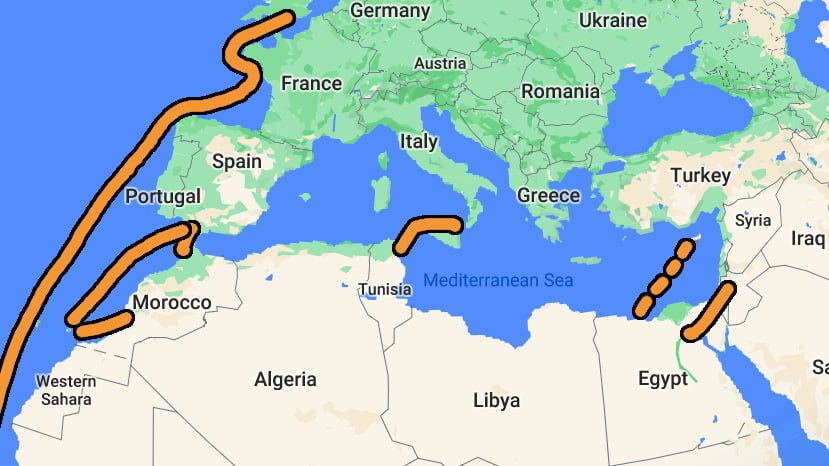 There is one main border crossing from Sudan to Egypt. You can find more information about this crossing on the iOverlander site. At the time of writing, travelers have reported crossing the border on the site as recently as 2023. The site recommends using fixers to help with the border bureaucracy.
Freighter travel is a personal favorite of mine, but I haven't seen any options for traveling to Egypt on a cargo ship. As far as I can tell, the ships that pass the Suez Canal don't allow disembarking in Egypt.
How to Get to Egypt without Flying – A Summary
In conclusion, getting to Egypt without flying is not entirely impossible. While direct ferry routes from Europe to Egypt are currently unavailable, there are alternative options worth considering.
The Taba Border Crossing allows travel between Israel and Egypt. For travelers coming from Europe, reaching Egypt by land through the Middle East poses significant difficulties due to the limited availability of routes. Ferry connections from Jordan to Saudi Arabia are also available.
Exploring Egypt's African land borders presents another avenue for reaching the country without flying. However, the political situation and potential safety concerns may affect border crossings with Libya and Sudan.
In summary, there are many solutions for how to get to Egypt without flying. By exploring land border crossings, ferry connections from neighboring countries, and considering the ever-changing political landscape, intrepid travelers can embark on an adventurous journey to this historical country.