Looking for something more unique to experience near Melbourne, Australia? William Ricketts Sanctuary offers captivating art in a beautiful setting.
I originally wrote this story during my 2-year trip around the world.
A few months ago, I participated in a 10-day Vipassana meditation retreat in Indonesia. When the course was about to end (and we were allowed to talk again), I started chatting with Australian Patrick who was on the same course. When he said he lived in Melbourne, I asked him about interesting places to see near the city.
His top recommendation? William Ricketts Sanctuary. Last week, I finally got a chance to visit the place.
William Ricketts Sanctuary of Weirdness
William Ricketts Sanctuary is the main piece of work of Australian sculptor William Ricketts (1898-1993). Ricketts combined Aboriginal motifs and his own beliefs in his intriguing sculptures. The statues of the forested area are designed to blend with the environment: figures emerge from rocks, and the line between natural and constructed is often faded.
Ricketts lived in the area from 1934 until his death, and the sanctuary now works as a museum and gallery of Ricketts' life and art. Entrance to William Ricketts Sanctuary is free of charge, and you can pay 5 Australian dollars (3.4 €) for an audio guide. The place is open daily from 10 AM to 4.30 PM.
William Ricketts Sanctuary is a bit more obscure tourist sight near Melbourne – for example, it's not even mentioned in the Lonely Planet Australia guide. However, if you want to escape the city for a short day trip from Melbourne, the statue park is definitely worth it.
Directions to William Ricketts Sanctuary
William Ricketts Sanctuary is located in Mount Dandedong, Victoria. The sanctuary is located about 45 kilometers east from the center of Melbourne. Besides the sanctuary, the Dandenong Ranges offers plenty of hiking routes on the hilly region.
You can easily get to the sanctuary and back by public transport. First, take a regional train to either Croydon Station or Upper Ferntree Gully. From either train station, hop on bus 688 that travels between the two destinations. William Ricketts Sanctruary has its own bus stop on the way at Mt Dandedong Tourist Road. The whole journey from Melbourne takes 90-120 minutes.
You can experience most of William Ricketts Sanctuary in less than an hour. When it's time to head back, take the next bus to either train station – the bus goes to both directions approximately once per hour. The info center of the area can check the timetables for you. The journey to William Ricketts costs 4.10 AU$ (2.8 €, 2 hour Zone 1+2 ticket) one way.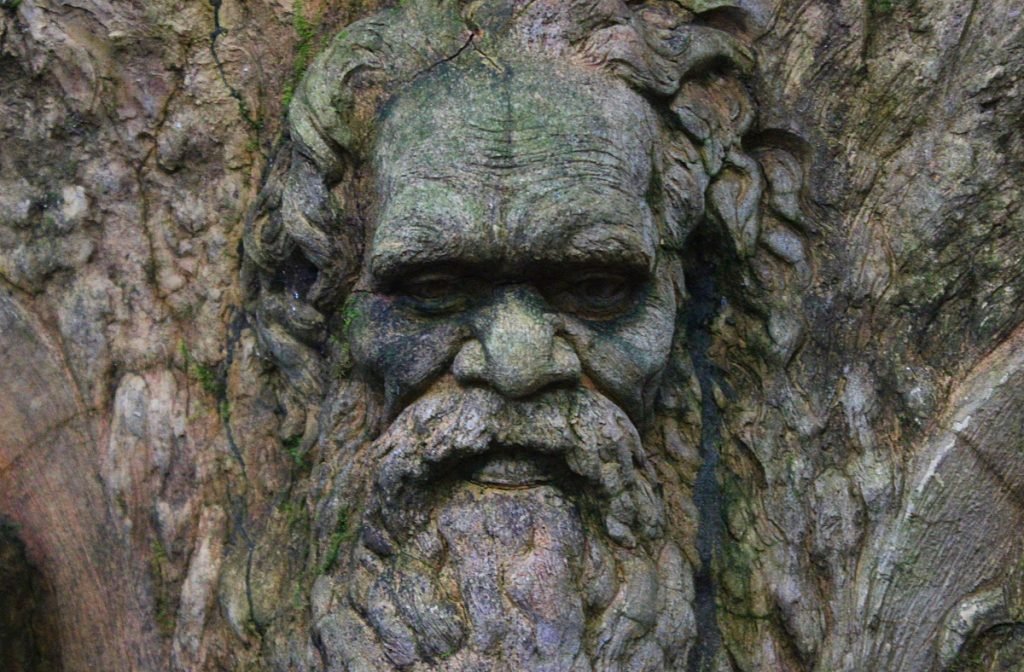 Exploring the Sanctuary
William Ricketts Sanctuary is not a massive place. The whole sanctuary fits inside 4 acres, which is about the size of two large football/soccer fields. However, once you get in, the sanctuary feels larger. There are numerous small pathways between the trees, and almost a hundred sculptures are spread around the area.
William Ricketts Sanctuary offers well-presented information about Ricketts and his work. At the same time, the signs leave enough for imagination. Some spots feature Ricketts' own explanations carved in stone, but his "train of thought" type of pondering might leave you with more questions than answers.
William Ricketts himself had European heritage, but he spent a lot of time with the Aboriginal people of Central Australia. Besides Aboriginal themes and his own beliefs, Ricketts took influences from different world religions. In this sense, the place reminds me of Buddha Park near Vientiane, Laos.
William Ricketts Sanctuary is an intriguing place to explore. The human and animal characters of the statues tell a story that's not always completely clear, and there's a great sense of mystery in the air. Many of the details of the sculptures are hard to notice on a first glimpse: the more you look, the more you see.
Personally, I recommend that you don't do too much research on the place before you get there. This is also my reason – or excuse – for having so few photos in this post. Don't look for too many pictures, just get there and experience place for yourself.