In 2015, I visited China as part of a train journey across Asia. During my stay, I didn't just see the Great Wall of China: I saw two of them.
Let's get the common misconception out of the way: no, the Great Wall of China is not one unified wall. It is a system of multiple defense walls, built over a period of over 2,000 years.
I was going to start this story by correcting different misconceptions about the Great Wall of China. However, my explanations went on for so long that I decided to post them as a separate blog post: Can You See the Great Wall of China from Space?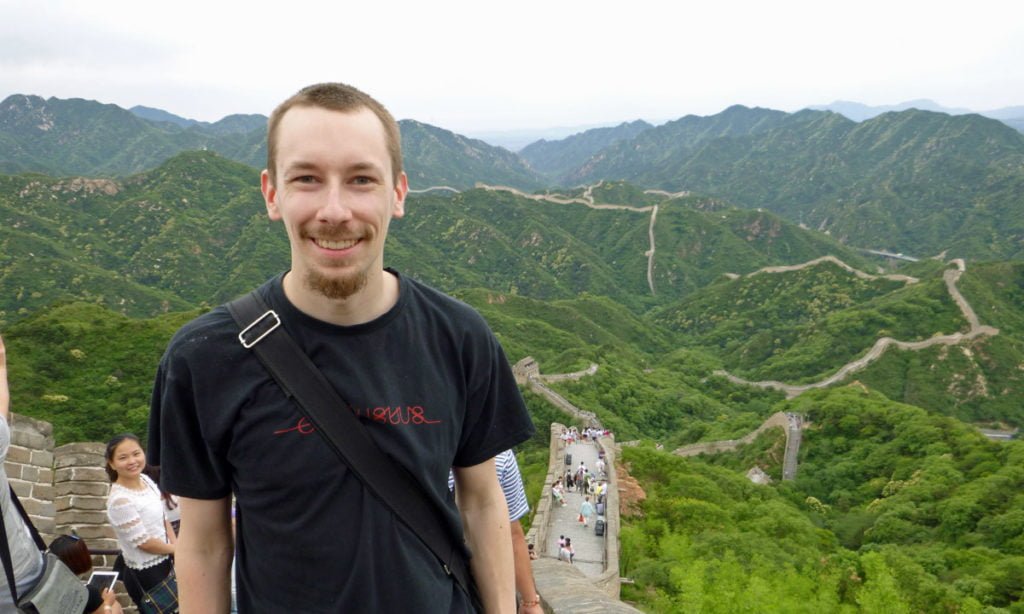 My Trip to China
I went to China in 2015 on a month-long train journey. My friend Aleksi and I started our journey with the Trans-Siberian railway (see Travel Memory #8) to Vladivostok. After that, we took the Trans-Mongolian railway (see Travel Memory #9) to Beijing. From Beijing, we continued our journey to North Korea on a guided tour.
During our stay in China, we had a chance to visit two very different parts of the Great Wall of China. First, we went to Badaling, the most visited stretch of the wall. The Great Wall of Badaling can be visited on a day trip from Beijing, and it is being thoroughly maintained.
The portion in Badaling looks exactly as you imagine: endless stretches of a massive wall on a picturesque, mountainous landscape. If you see a picture of the Great Wall, it is most likely from Badaling.
The Other Great Wall
Before venturing to North Korea, our guided tour started in Dandong, the Chinese border town on the DPR Korea's border. While there, we had time to explore the city and its surrounding as part of our tour.
We also went to the Tiger Mountain Great Wall, a stretch of the Great Wall that's located close to Dandong. Interestingly, this part of the wall is much more modest than the one near Beijing.
The section we visited had been (re)built in the 1990s, and in reality, it didn't feel completely authentic. According to our tour guide, the wall was built on a ⅔ scale, which made the wall feel like a miniature version of something else.
Other Memories of China
I remember Beijing as a massive place. The distances were not very walkable, and going from one place to another was cumbersome. We struggled with the language barrier, but the food was good.
I also got a flu while in China, and for a few days I could barely eat anything.
I haven't returned to mainland China after our tour of Asia. I went to Taiwan on my 2-year trip around the world and I really enjoyed my visit. If I ever go back to China, I'd like to explore more of the smaller cities and towns of the country.